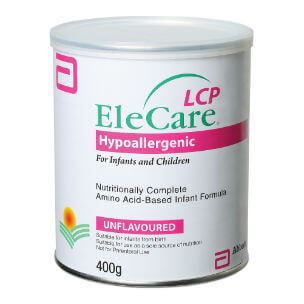 EleCare® LCP
EleCare LCP (Long Chain Polyunsaturated Fatty Acids - to support healthy brain and eye development)2,3 is for the initial and continuing treatment of multiple food allergies including allergy to:
Cow's Milk Protein
Soy Protein
Protein Hydrolysate Formula.
It is a nutritionally complete hypoallergenic1 amino acid based formula, specially formulated to meet the nutritional needs of infants and children who need an amino acid based formula or who cannot tolerate intact or hydrolysed protein.
EleCare LCP is also for other conditions in which an amino-acid based diet is required (e.g. maldigestion, malabsorption and GI tract impairment)1. 4-7.
Is suitable for use in both oral and tube feeding.
Availability
Product available in Australia and New Zealand
53510.14003
ELECARE LCP 400GR CAN
Features
100% free L-amino acids
1/3 of fat blend as Medium Chain Triglycerides (MCT) to aid fat absorption
With LCP* to support healthy brain and eye development
Hypoallergenic
Supports normal growth and improves iron status
PBS listed (Authority required. See PBS Schedule for full criteria)
*Long Chain Polyunsaturated Fatty Acids in the form of Docosahexaenoic Acid (DHA) and Arachidonic Acid (ARA)
Precautions
Breastmilk is best for babies.
Consult your doctor or health worked for advice before deciding to use an infant formula
Do not change proportions of powder except on medical advice
Powdered infant formula is not sterile. Do not boil formula and do not use a microwave oven to prepare or heat formula
Follow instructions exactly. Prepare bottles and teats as directed
Incorrect preparation can make your child very ill
Food for special medical purposes. Use only under medical supervision
Not for Parenteral use
PREPARATION
Serving preparation:
Standard dilution for infants under 12 months based on 0.67kcal/ml:
1 scoop of 9.4g per 60ml of water
Only the doctor or dietitian can determine the appropriate amount of EleCare your child should consumer in a day. Do not change the concentration or quantity of formula prescriber by your doctor or dietitian unless you speak with him or her.
NUTRITION
Nutritionally complete amino acid based formula enriched with LCP's suitable for the dietary management of infants (0-12 months) with severe food allergies, maldigestion, malabsorption and gastrointestinal tract impairment.
per 100mL (standard dilution)*
Docosahexaenoic acid
mg
6.2
Thiamin (vitamin B1)
mcg
275
Riboflavin (vitamin B2)
mcg
117.00
Potassium
mg (mmol)
108 (2.8)
Chloride
mg (mmol)
47 (1.3)
Osmolality
mOsm/kg H20
350**
Renal solute load
mOsm/litre
184
* Standard dilution based on infant: 0.67 Cal/mL
** Osmolality, prepared at 0.67 Cal/mL: 350 mOsm/kg water. Osmolality, prepared at 1 Cal/mL: 560 mOsm/kg water.
Presentation:
400g can
Halal: Yes
Kosher: Yes
Flavours available: Unflavoured
Country of Manufacture: Sturgis, United States