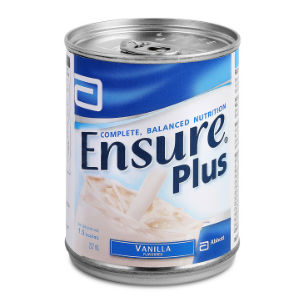 Ensure® Plus Can
Ensure Plus is a 1.5kcal/ml, high-protein, milkshake style oral nutritional supplement for people with, or at risk of developing, disease-related malnutrition. Ensure Plus is a rich, creamy drink that contains complete, balanced nutrition1-2 when used in appropriate amounts, which provides calories, protein & carbohydrates to help you gain or maintain a healthy weight.3-7
Ensure Plus is available in Vanilla flavour and is presented in a 237ml ready to drink can.
AVAILABILITY
Product available in Australia and New Zealand
51716.126
ENSURE PLUS VAN 237ML CAN
FEATURES
Good tasting
Appropriate for low-sodium and low-cholesterol diets
Convenient and ready to drink
Precautions
Food for Special Medical Purposes. Use only under medical supervision.

Not for Parenteral use
Not for use in galactosemia
Not intended for use in children unless otherwise instructed by a health care professional
NUTRITION
1.5kcal/mL nutritionally complete and balanced, milkshake style nutritional drink for disease related malnutrition.
Protein (nitrogen)
g
5.5 (0.87)
13 (2.05)
of which saturates
g
0.42
1.00
Thiamin (vitamin B1)
mg
0.16
0.38
Riboflavin (vitamin B2)
mg
0.18
0.43
Sodium
mg (mmol)
101 (4.39)
240 (10.44)
Potassium
mg (mmol)
186 (4.76)
440 (11.25)
Chloride
mg (mmol)
190 (5.36)
450 (12.69)
Water
mL/100mL (mL/can)
75.9 (180)
Renal solute load
mOsm/litre
458
Suitable (but not restricted to) following patient groups:
Malnourished/poor appetite
Cystic fibrosis
Stroke/ neurological disorder
pre & post- surgery
elderly
Presentation: 237ml can
Halal: Yes
Kosher: Yes
Flavours available: Vanilla
Country of Manufacture: Sturgis, United States
INGREDIENTS
List of ingredients in descending order:
Water, corn syrup, maltodextrin (corn), sodium and calcium caseinates, sugar (sucrose), canola oil, corn oil, high oleic safflower oil, soy protein isolate, magnesium chloride, potassium citrate, calcium phosphate tribasic, emulsifier (322), flavours, potassium chloride, sodium citrate, magnesium phosphate dibasic, choline chloride, ascorbic acid, stabilizer (407), alpha-tocopheryl acetate, ferrous sulphate, zinc sulphate, niacinamide, calcium pantothenate, manganese sulphate, cupric sulphate, Vitamin A palmitate, thiamin chloride hydrochloride, pyridoxine hydrochloride, riboflavin, folic acid, chromium chloride, biotin, sodium molybdate, sodium selenate, potassium iodide, phylloquinone, Vitamin D3 and cyanocobalamin.
CONTAINS MILK AND SOY INGREDIENTS
May contain: potassium phosphate dibasic, sodium chloride