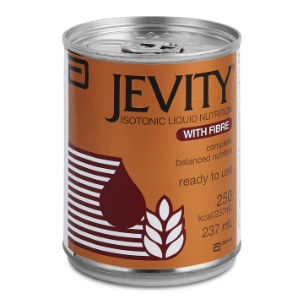 Jevity® Can
Jevity is a 1.0kcal/ml nutritionally complete and balanced isotonic liquid feed enriched with fibre to help maintain normal bowel function. Fibre has an important role in the diet by helping to support gastrointestinal function1,2,3.
Jevity is available in a 237ml can. For use in short and/or long tube feeding.
AVAILABILITY
0143.12602
JEVITY FIBRE UNF 237ML CAN
FEATURES
Complete, balanced liquid nutrition
Precautions
Food for special medical purposes. Use only under medical supervision.

Not for Parenteral use
Not for use in galactosemia
Not intended for use in children unless otherwise instructed by a health care professional
PREPARATION
Ready to serve
NUTRITION
1.0kcal/mL nutritionally complete and balanced isotonic liquid feed, enriched with fibre to help maintain normal bowel function.
Protein (nitrogen)
g
4.42 (0.69)
10.4 (1.63)
of which saturates
g
0.86
2.04
Thiamin (vitamin B1)
mg
0.17
0.41
Riboflavin (vitamin B2)
mg
0.20
0.46
Sodium
mg (mmol)
93 (4.05)
220 (9.57)
Potassium
mg (mmol)
158 (4.04)
370 (9.46)
Chloride
mg (mmol)
131 (3.70)
310 (8.74)
Water
mL/100mL (mL/can)
83.0 (197)
Renal solute load
mOsm/litre
370
Suitable for:
Low energy requirements
Long term feeder
Neurological disorder
Constipation/diarrhoea
Immobile/ bed ridden
Post surgery
Malnourished
Presentation : 237ml can
Halal : Yes
Kosher : Yes
Flavours available: Unflavoured
Country of Manufacture: Sturgis, United States
INGREDIENTS
Water, maltodextrin (corn), sodium and calcium caseinates, corn syrup solids, soy fiber, high-oleic safflower oil, canola oil, medium chain triglycerides (MCT) oil, calcium phosphate tribasic, potassium citrate, magnesium chloride, soy lecithin, sodium citrate, magnesium sulphate, potassium chloride, choline chloride, ascorbic acid, taurine, l-carnitine, zinc sulphate, alpha-tocopheryl acetate, ferrous sulphate, niacinamide, calcium pantothenate, manganese sulfate, cupric sulphate, thiamin chloride hydrochloride, pyridoxine hydrochloride, riboflavin, Vitamin A palmitate, folic acid, biotin, chromium chloride, sodium molybdate, potassium iodide, sodium selenate, phylloquinone, cyanocobalamin, Vitamin D3.