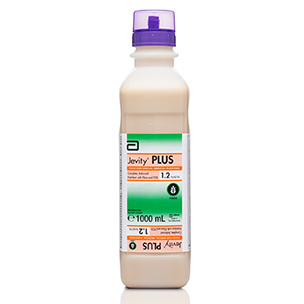 Jevity® Plus
Jevity Plus is a 1.2kcal/ml tube feed with fibre, for people with, or at risk of developing, disease-related malnutrition.
Jevity Plus contains a mix of fibre and FOS (fructo-oligosaccharides). Fibre and FOS have an important role in the diet by helping to support gastrointestinal function1-3.
Jevity Plus is available in 1000ml Ready to Hang bottles, which attach directly to Abbott Nutrition giving sets.
AVAILABILITY
Product available in Australia and New Zealand
M635.15401
JEVITY PLUS FIBRE UNF 1000ML RTH
FEATURES
Complete, balanced liquid nutrition
Ready to hang
Precautions
Food for special medical purposes. Use only under medical supervision. Jevity is suitable as a sole or supplemental source of nutrition, to be used under medical supervision.

Not intended for use in children under 2 years of age. Use with caution in children under 10 years of age
Not for Parenteral use
Not for use in galactosemia
PREPARATION
Ready to hang. Shake well. Open immediately prior to use. Once opened, cover and place in refrigeration, discarding any unused feed after 24 hours. Store unopened at room temperature avoiding prolonged exposure to light. Packaged in a protective atmosphere.
NUTRITION
1.2kcal/mL nutritionally complete and balanced liquid feed, with a unique blend of fibre and fructo-oligosaccharides (FOS) to help maintain normal bowel function.
Protein (nitrogen)
g
5.55 (0.87)
of which ß-carotene
mcg RE
33
Thiamin (vitamin B1)
mg
0.19
Riboflavin (vitamin B2)
mg
0.21
Sodium
mg (mmol)
108 (4.70)
Potassium
mg (mmol)
185 (4.73)
Chloride
mg (mmol)
150 (4.23)
Renal solute load
mOsm/litre
453
Suitable for:
Long term feeder
Neurological disorder
Constipation/diarrhoea
Immobile/ bed ridden
Post surgery
Malnourished
Presentation: 1000ml ready to hang container
Halal: Yes
Kosher: Yes
Flavours available: Unflavoured
Country of Manufacture: Zwolle, Netherlands
INGREDIENTS
List of ingredients in descending order:
Water, maltodextrin, sodium and calcium caseinates, soy protein isolate, high oleic sunflower oil, canola oil, fructo- oligosaccharide, MINERALS (potassium chloride, sodium citrate, potassium citrate, magnesium phosphate dibasic, calcium carbonate, calcium phosphate tribasic, ferrous sulphate, zinc sulphate, manganese sulphate, cupric sulphate, sodium molybdate, chromium chloride, potassium iodide, sodium selenate), corn oil, medium chain triglycerides (MCT) oil, soy polysaccharide, oat fiber, gum arabic, carboxy methyl cellulose, emulsifier (322), VITAMINS (choline chloride, ascorbic acid, dl-alpha tocopheryl acetate, niacinamide, calcium pantothenate, pyridoxine hydrochloride, thiamine hydrochloride, riboflavin, Vitamin A palmitate, beta carotene, Vitamin D3, folic acid, phylloquinone, biotin, cyanocobalamin) taurine, L-carnitine.
May contain: sodium chloride, magnesium chloride, potassium phosphate dibasic, magnesium sulphate.
CONTAINS: MILK, SOY AND CEREAL (WHEAT, OAT) INGREDIENTS