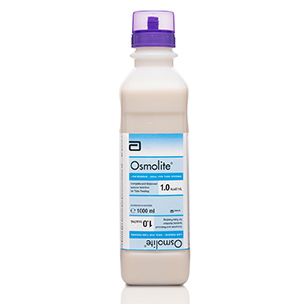 Osmolite®
Osmolite is a 1.0kcal/ml, isotonic tube feed for people with caloric requirements of less than 2000 Cal per day or for patients with increased protein requirements.
Osmolite is available in 1000ml Ready to Hang bottles, which attach directly to Abbott Nutrition giving sets.
Suitable for lactose intolerance* without fibre.
Tube feeds are designed for people who cannot take in all of the calories and nutrients they need by mouth. Tube feeding usually starts in hospital and involves delivering a nutritionally complete liquid feed directly into the stomach or small bowel via a narrow tube. Your healthcare professional will be able to advise you on which tube feed is right for you or your child.
* Not for people with galactosemia
AVAILABILITY
OSMOLITE UNF 1000ML RTH - Product available in Australia and New Zealand
E711.15401
OSMOLITE UNF 1000ML RTH
FEATURES
Complete, balanced liquid nutrition
Ready to drink, ready to hang
Precautions
Osmolite is suitable as a sole or supplemental source of nutrition to be used under medical supervision.

Not for Parenteral use
Not for use in galactosemia
Not intended for use in children unless otherwise instructed by a health care professional
PREPARATION
Use Instructions

Ready to hang. Shake well. Open immediately prior to use. Once opened, cover and place in refrigeration, discarding any unused feed after 24 hours. Store unopened at room temperature avoiding prolonged exposure to light. Packaged in a protective atmosphere.
NUTRITION
1.0kcal/mL nutritionally complete, balanced isotonic, fibre free liquid feed for patients with sensitivity or intolerance to hypertonic feeds.
Protein (nitrogen)
g
4.00 (0.63)
Thiamin (vitamin B1)
mg
0.16
Riboflavin (vitamin B2)
mg
0.18
Potassium
mg (mmol)
148 (3.79)
Chloride
mg (mmol)
136 (3.84)
Renal solute load
mOsm/litre
342
Suitable for:
Low energy requirements
Long term feeder
Neurological disorder
Post surgery
Malnourished

Presentation : 250 ml can, 1000ml ready to hang container
Halal: Yes
Kosher: Yes
Flavours available: Unflavoured
Country of Manufacture: Zwolle, Netherlands
INGREDIENTS
List of ingredients in descending order:
Water, maltodextrin, sodium and calcium caseinates, vegetable oils (high oleic sunflower oil, canola oil, medium chain triglycerides (MCT) oil), MINERALS (calcium phosphate tribasic, potassium chloride, potassium citrate, magnesium chloride, sodium citrate, magnesium sulphate, potassium phosphate dibasic, ferrous sulphate, zinc sulphate, manganese sulphate, curpric sulphate, sodium molybdate, chromium chloride, sodium selenite, potassium iodide), soy protein isolate, stabilisers (460, 466, 418), emulsifier (322), choline chloride, VITAMINS (ascorbic acid, Vitamin E, niacinamide, calcium pantothenate, pyridoxine hydrochloride, thiamin hydrochloride, riboflavin, beta carotene, Vitamin A palmitate, folic acid, biotin, phylloquinone, Vitamin D3, cyanocobalamin).
May contain: sodium chloride.
CONTAINS: Milk and Soy ingredients.