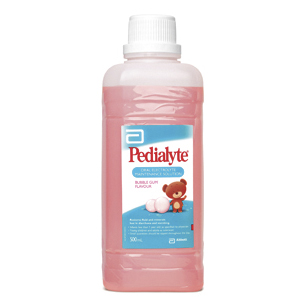 Pedialyte®
Pedialyte® is a therapeutic oral hydration solution that replenishes vital minerals and nutrients lost during diarrhoea and vomiting and to help prevent mild to moderate dehydration in infants, children and adults.1-8
It is also for maintenance of water and electrolytes following corrective parenteral therapy for diarrhea.1-8 Pedialyte is designed to promote fluid absorption more effectively than common household beverages like sports drinks, juice or water.4 No mixing or diluting is necessary or recommended for the liquid products.
Use under medical supervision.
AVAILABILITY
Product available in New Zealand only
P801
PEDIALYTE BUBBLE GUM FLAVOUR 1L (2 X 500ML BOTTLES)
FEATURES
Suits taste preference of toddlers and older children
Lactose free
Gluten free
Precautions
Not for use in galactosemia. Not for parenteral use.
PREPARATION
Use Instructions

Ready to serve. If desired, refrigerate to chil.l
After opening, store in the refrigerator. Contents must be consumed within 24 hours.
For children under 1 year of age, consult your doctor before feeding Pedialyte.
For children 1 year of age and older, offer Pedialyte every 1 to 4 hours. The child should drink 1 to 2 litres per day of Pedialyte while diarrhea continues. If there is vomiting or fever, or if diarrhea continues beyond 24 hours, consult your doctor.
NUTRITION
New Pedialyte (S801)per 100ml
Osmolality
mOsm/kg H2O
257.57
Renal Solute load
mOsml/L
100
Presentation: 1 L (500mlx2 bottles)
Halal: Yes
Kosher: Yes
Flavours available:
Country of Manufacture: Indonesia
INGREDIENTS
Dextrose, Potassium Citrate, Sodium Chloride, Sodium Citrate, Fructose.
Contains acesulfame potassium and sucralose as artificial sweetener.