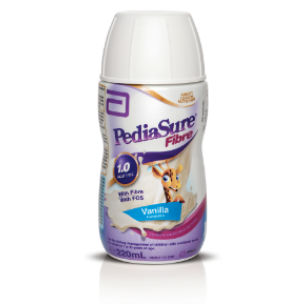 PediaSure® Fibre
PaediaSure Fibre contains a mix of fibre and FOS (fructo-oligosaccharides). Fibre and FOS have an important role in the diet by helping to support gastrointestinal function1-3.
PaediaSure Fibre provides 1.0kcal/ml and is available both as a 220ml oral nutritional supplement.
The milkshake style supplement is ready-to-drink and available in delicious vanilla. It is best served chilled.
AVAILABILITY
Product available in Australia only
M610.118
PEDIASURE FIBR VAN 220ML RPB
FEATURES
PediaSure contains 28 essential vitamins and minerals2, including:
Iron – a nutrient that's important for normal brain development
Calcium, Vitamin D and phosphorus, which are essential for healthy bones.
PediaSure also delivers a balanced combination of carbohydrate 44% fat 44% and protein 12% designed especially for growing bodies2. *
Precautions
Food for Special Medical Purposes. Use only under medical supervision.
Not for Parenteral use.
Not for use in galactosemia.
PREPARATION
Use Instructions

Ready to serve. SHAKE WELL. Open immediately prior to use. Once opened, cover and place in a refrigerator, discarding unused feed after 24 hours. Pediasure Fibre is best served chilled and can be sipped through the straw provided or can be poured into a glass.
NUTRITION
1.0kcal/mL nutritionally complete and balanced nutritional drink enriched with fibre and fructo-oligosaccharides (FOS) for children. PediaSure Fibre is suitable for oral and enteral use.
Protein (nitrogen)
g
2.80 (0.44)
6.16 (0.97)
of which saturates
g
1.3
2.86
Thiamin (vitamin B1)
mg
0.15
0.33
Riboflavin (vitamin B2)
mg
0.20
0.44
Pantothenic acid
mg
0.30
0.66
Sodium
mg (mmol)
60 (2.61)
132 (5.74)
Potassium
mg (mmol)
110 (2.81)
242 (6.19)
Chloride
mg (mmol)
100 (2.82)
220 (6.21)
Water
mL/100mL (mL/bottle)
85.2 (187)
Renal solute load
mOsm/litre
259
Suitable for:
Faltering growth
Poor appetite
Acute illness
Fussy eaters
Neurological disorders
Physical/mental disability
Constipation/diarrhoea
Presentation: 220ml
Halal: Yes
Kosher: Yes
Flavours available: Vanilla
Country of Manufacture: Zwolle, Netherlands
INGREDIENTS
List of ingredients in descending order:
Water, maltodextrin, sucrose, sodium and calcium caseinates, high oleic sunflower oil, soy oil, medium chain triglycerides (MCT) oil, whey protein concentrate, MINERALS (calcium phosphate tribasic, magnesium chloride, potassium chloride, sodium citrate, potassium phosphate dibasic, potassium citrate, ferrous sulphate, zinc sulphate, cupric sulphate, manganese sulphate, sodium fluoride, potassium iodide, sodium molybdate, chromium chloride, sodium selenite), flavouring, fructo-oligosaccharides, oat fibre, soy polysaccharide, stabiliser (414), emulsifier (471), emulsifier (322), VITAMINS (choline bitartrate, ascorbic acid, niacinamide, dl-alpha tocopheryl acetate, calcium pantothenate, thiamin hydrochloride, riboflavin, pyridoxine hydrochloride, Vitamin A palmitate, folic acid, biotin, phylloquinone, Vitamin D3, cyanocobalamin), stabiliser (466), stabiliser (415), m-inositol, taurine, acidity regulator (525), l-carnitine, acidity regulator (330).
May contain: magnesium sulphate, sodium chloride.Contains Milk, Soy and Cereal (Oat) Ingredients.