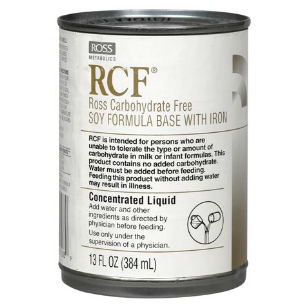 Ross Carbohydrate Free®
No Added Carbohydrate Soy Infant Formula Base With Iron
For use in the dietary management of patients unable to tolerate the type or amount of carbohydrate in milk or conventional infant formulas; or seizure disorders requiring a ketogenic diet.
Use under medical supervision.
Availability
Product available in Australia only
0108.11
ROSS CARBO FREE UNF 384ML CAN
Features
The only commercial infant formula available for the dietary management of seizures in infants
Formulated to allow physician to prescribe type and amount of carbohydrate (that can be tolerated) with the assurance that other nutrient needs will be met
Soy protein isolate to avoid symptoms of cow's-milk-protein allergy or sensitivity
1.8 mg of iron (as ferrous sulfate) per 100 Cal if carbohydrate is added to make a 20 Cal/fl oz feeding
L-carnitine (3 mg/100 mL) and taurine (12 mg/100 mL)
Lactose-free
Precautions
Suitable for infants from birth with metabolic disorders or who require a no added carbohydrate, soy formula
Food for Special Medical Purposes. Use only under medical supervision
Not for Parenteral use
PREPARATION
Ready to serve.
NUTRITION
Carbohydrate-free soy formula for infants who are unable to tolerate the type and amount of carbohydrates in milk or infant formulas
per 100mL (Concentrated Liquid)
per 100Cal* (With Carbohydrate and Water)
of which linoleic acid
mg
1352
1000
Thiamin (vitamin B1)
mcg
80
60
Riboflavin (vitamin B2)
mcg
120
90
Pantothenic acid
mg
1.0
0.75
Sodium
mg (mmol)
59.1 (2.6)
44 (1.9)
Potassium
mg (mmol)
146 (3.7)
108 (2.8)
Chloride
mg (mmol)
83 (2.3)
62 (1.6)
Renal solute load
mOsm/litre
34.8
* When 52g of carbohydrate and 355mL of water are mixed with 384mL of RCF®. Composition will vary depending on amount of carbohydrate used.
**Concentrated liquid per 100 cal
Presentation
: 384 ml can (unflavoured)
Halal: Yes
Kosher: Yes
Flavours available: Unflavoured
Country of Manufacture: Alta Vista, United States
INGREDIENTS
Water, soy protein isolate, high oleic safflower oil, soy oil, coconut oil, MINERALS (calcium phosphate, potassium citrate, potassium chloride, magnesium chloride, sodium chloride, ferrous sulphate, zinc sulphate, cupric sulphate, potassium iodide, sodium selenate), VITAMINS (ascorbic acid, choline chloride, inositol, niacinamide, alpha-tocopheryl acetate, calcium pantothenate, thiamin chloride hydrochloride, Vitamin A palmitate, riboflavin, pyridoxine hydrochloride, beta carotene, folic acid, phylloquinone, biotin, Vitamin D3, cyanocobalamin), emulsifier (471), soy lecithin, stabiliser (407), L-methionine, taurine, L-carnitine.
May contain calcium carbonate, potassium hydroxide.
Contains soy ingredients