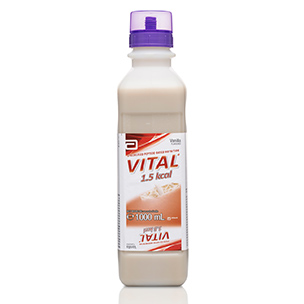 Vital®
Vital 1.5kcal is suitable for people with disease-related malnutrition and malabsorption or for those who experience symptoms of poor feed tolerance. Vital 1.5kcal is peptide-based* , nutritionally complete and available as a 1000ml Ready to Hang (RTH) tube feed, which attaches directly to Abbott Nutrition giving sets.
This oral nutritional supplement is ready-to-drink and available in vanilla flavour. Vital 1.5kcal should be used under the supervision of a healthcare professional.
AVAILABILITY
Product available in Australia and New Zealand
S298.154
VITAL 1.5KCAL 1000ML RTH
FEATURES
A calorically dense, peptide-based formula for patients experiencing malabsorption, maldigestion, or impaired GI function and/or symptoms of GI intolerance
For tube or oral feeding
For supplemental or sole-source nutrition
Precautions
Food for special medical purposes. Use only under medical supervision
Vital 1.5kcal is suitable as a sole or supplemental source of nutrition to be used under medical supervision
Not for Parenteral use
Not for use in galactosemia
Not intended for use in children unless otherwise instructed by a health care professional
PREPARATION
Use Instructions

Ready to use. Shake well. Oral Feeding: May be fed at room temperature or chilled. Open immediately prior to use. Once opened, cover and place in refrigeration, discarding any unused feed after 24 hours. Store unopened at room temperature avoiding prolonged exposure to light. Packaged in a protective atmosphere.
Tube Feeding: Connect feeding set immediately prior to use. Follow physician's instructions. Adjust flow rate and volume according to patient's condition and tolerance. Feed by pump at room temperature with an 8 Fr or larger tube. Gravity feeding is not recommended. Additional fluid requirements should be met by providing supplemental water. Care should be taken to avoid contamination of this product during preparation and administration.
NUTRITION
1.5kcal/mL nutritionally complete, semi-elemental feed for patients with malabsorption and/or poor feed tolerance.
Protein (nitrogen)
g
6.75 (1.08)
of which monounsaturates
g
0.9
of which polyunsaturates
g
0.38
Thiamin (vitamin B1)
mg
0.21
Riboflavin (vitamin B2)
mg
0.30
Sodium
mg (mmol)
169 (7.35)
Potassium
mg (mmol)
200 (5.12)
Chloride
mg (mmol)
150 (4.23)
Renal solute load
mOsm/L
552
Suitable for:
Malabsorption
Post surgery
Malnourished
Gut injury or insult
Presentation: 1000ml ready to hang
Halal: Yes
Kosher: Yes
Flavour: Vanilla
Country of manufacture: Zwolle, Netherlands
INGREDIENTS
List of ingredients in descending order:
Water, maltodextrin, hydrolysed whey protein concentrate, VEGETABLE OIL (medium chain triglycerides (MCT) oil, canola oil), sucrose, hydrolysed sodium caseinate, MINERALS (calcium carbonate, magnesium phosphate dibasic, potassium phosphate dibasic, potassium chloride, sodium citrate, potassium citrate, ferrous sulphate, zinc sulphate, manganese sulphate, cupric sulphate, sodium molybdate, chromium chloride, sodium selenate, potassium iodide), flavouring, emulsifier (472e), VITAMINS (choline chloride, ascorbic acid, dl-alpha tocopheryl acetate, niacinamide, calcium pantothenate, Vitamin A palmitate, pyridoxine hydrochloride, thiamin hydrochloride, riboflavin, folic acid, phylloquinone, biotin, Vitamin D3, cyanocobalamin), stabilizer (460), stabilizer (407), L-carnitine, taurine, stabilizer (466), sucralose.
May contain: magnesium chloride, calcium phosphate tribasic.
Contains: Milk ingredients