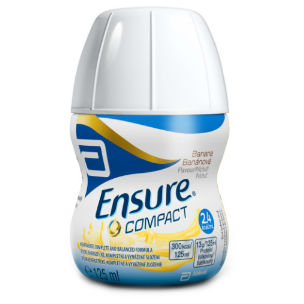 Ensure® compact
Ensure®Compact is a complete, balanced low volume sip feed for people at risk of disease related malnutrition.
GMS, DPS and LTI* approved
INDICATIONS
Ensure® Compact
is suitable for patients with:
Disease related malnutrition
Fluid restriction
Unable to tolerate larger volumes of supplement
NOTE
FOR ENTERAL USE ONLY
Unless recommended by a healthcare professional, not intended for use in children.
Not for use in galactosaemia.
Suitable for people with diabetes provided that routine glucose checks are performed.
Presentation & Order Codes
PRODUCT and Flavour
LIST NUMBERS
PACK SIZE
CASE SIZE
Ensure® compact Banana
S60324
125ml reclosable plastic bottle
24
Ensure® compact Strawberry
S60224
125ml reclosable plastic bottle
24
Ensure® compact Vanilla
S60124
125ml reclosable plastic bottle
24
TOP TIPS FOR ENSURE® COMPACT
For oral use, Ensure® Compact is best served chilled
Ensure® Compact can be frozen into ice cubes or lollipops
Ensure® Compact can be added to smoothies, custard, rice pudding or porridge to help boost the nutritional content
FEATURES
ENERGY DENSE
ENERGY DISTRIBUTION
17.0% protein
35.1% fat
47.9% carbohydrate
LOW VOLUME
Specially developed for patients with fluid restriction or who have difficulty drinking larger volumes
PROTEIN
12.8g per 125ml bottle
GLUTEN FREE
WATER
80.4ml per 125ml
COMPLETE IN VITAMINS AND MINERALS
Nutritionally complete in 625ml** or 5 bottles
CONVENIENT 125ML BOTTLE WITH DOUBLE BEND STRAW ATTACHED
AVAILABLE IN 3 DELICIOUS FLAVOURS
RECIPES
View our mouth watering recipes using Ensure® Compact
Order Samples
Click
here
to place an order for samples.