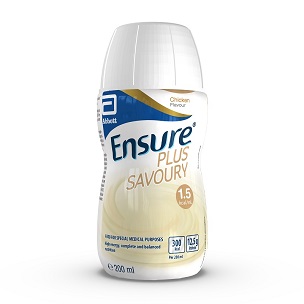 Ensure® plus savoury
Ensure® Plus Savoury is a complete, balanced, high energy, savoury style sip feed, designed for people at risk of disease related malnutrition.
GMS, DPS and LTI* approved
INDICATIONS
Ensure® Plus Savoury
is suitable for patients with:
Disease related malnutrition
Pre- and post-operative
Anorexia or poor appetite
Neurological disorders
Malignant disease
NOTE
Not suitable for children under 1 year of age
Unless recommended by a healthcare professional, not intended for use in children.
Not suitable for people with galactosaemia.
FOR ENTERAL USE ONLY
Presentation & Order Codes
PRODUCT and Flavour
LIST NUMBERS
PACK SIZE
CASE SIZE
Ensure® plus savoury Chicken
S40930
220ml Bottle
30
TOP TIPS FOR ENSURE® PLUS SAVOURY
For oral use, Ensure® Plus Savoury is best served warm as a nutritious creamy soup. Do not boil as this may affect the nutrient content
Ensure® Plus Savoury can be added to foods such as casseroles, sauces and gravies to help boost the nutritional content
FEATURES
HIGH ENERGY
ENERGY DISTRIBUTION
16.7% protein
29.5% fat
53.8% carbohydrate
PROTEIN
COMPLETE IN VITAMINS AND MINERALS
Nutritionally complete in 1000ml** or 5 bottles
CONVENIENT 220ML BOTTLE WITH DOUBLE BEND STRAW ATTACHED
Designed to be easily held with a resealable cap for easy pouring
GLUTEN AND CLINICALLY LACTOSE FREE
OSMOLALITY
WATER
RECIPES
View our mouth watering recipes using Ensure® Plus Savoury
Order Samples
Click
here
to place an order for samples.