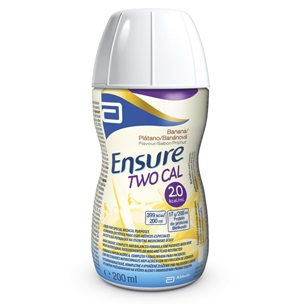 Ensure® twocal
Ensure® TwoCal is a complete, balanced, very high energy sip feed, providing nutrition and hydration for people at risk of disease related malnutrition.
GMS, DPS and LTI* approved
INDICATIONS
Ensure® TwoCal
is suitable for patients with:
Disease related malnutrition
Liver disease
Malignant disease
Moderate burns
Congestive heart failure
Pre- and post-operative
Fluid restriction or volume intolerance
Bolus feeding
NOTE
Not suitable for children under 1 year of age
Unless recommended by a qualified healthcare professional, not intended for use in children.
Not suitable for people with galactosaemia
FOR ENTERAL USE ONLY
Presentation & Order Codes
PRODUCT and Flavour
LIST NUMBERS
PACK SIZE
CASE SIZE
Ensure® twocal Banana
S16330
200ml reclosable plastic bottle
30
Ensure® twocal Neutral
S16530
200ml reclosable plastic bottle
30
Ensure® twocal Strawberry
S16630
200ml reclosable plastic bottle
30
Ensure® twocal Vanilla
S16430
200ml reclosable plastic bottle
30
TOP TIPS FOR ENSURE® TWOCAL
For oral use, Ensure® TwoCal is best served chilled
Ensure® TwoCal can be frozen into ice cubes or lollipops
Ensure® TwoCal neutral flavour can be flavoured with coffee, cocoa or soup
Ensure® TwoCal neutral flavour can be used instead of milk in drinks, breakfast cereals or in casseroles to help increase the nutritional content
FEATURES
ENERGY DENSE
ENERGY DISTRIBUTION
16.8% protein
40.0% fat
42.1% carbohydrate
1.00% FOS (fructooligosaccharides)
PROTEIN
16.8g of protein per 200ml
ENRICHED WITH FOS
GLUTEN AND CLINICALLY LACTOSE FREE
OSMOLALITY
WATER
COMPLETE IN VITAMINS AND MINERALS
Nutritionally complete in 875ml* or 4½ bottles
CONVENIENT 200ML BOTTLE WITH DOUBLE BEND STRAW ATTACHED
AVAILABLE IN 4 DELICIOUS FLAVOURS
VERSATILE
Suitable for use as a sip feed, can be taken in a divided dose as part of the medication round
The bottles can be attached to the FreeGo giving sets making it suitable for bolus enteral feeding
RECIPES
View our mouth watering recipes using Ensure® TwoCal
COMPARISON OF STANDARD ORAL NUTRITIONAL SUPPLEMENTS
NUTRIENT PER UNIT
ENSURE®
ENSURE® PLUS
ENSURE® TWOCAL
ENERGY
250kcals
300kcals
400kcals
PRESENTATION
250ml Can
200ml Bottle
200ml Bottle
Order Samples
Click
here
to place an order for samples.