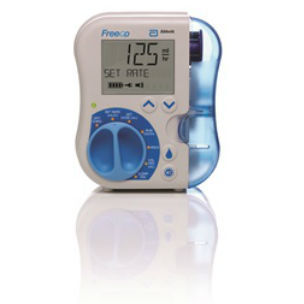 FreeGo® Pump
Abbott Nutrition's enteral feeding pump is designed to meet the needs of patients in the hospital or in the community setting.
Abbott Nutrition's FreeGo pump is easy to use and comes with clear instructions. They are currently loaned free of charge to patients using Abbott feeds and they are fully serviced by us.
If there is a problem with a feeding pump or a replacement pump is required, please contact our Hospital to Home service on 1800 22 11 66 or 01 469 1549.
Patients should register their pumps with Hospital to Home to ensure out of hours service.
The FreeGo® pump is a safe, simple and easy to use pump that provides for accurate, controlled enteral feeding in a user-friendly operating system.
Suitable for adults and children, the FreeGo® pump is small and lightweight for portable and bedside use.
FEATURES
Small and lightweight for portable and bedside use
Easy to set feeding rate of 1-400ml/hour in 1 ml increments to allow greater flexibility
Accuracy to ± 5% to meet the needs of even the most volume sensitive patients
Free flow protection with the AccuSafe™ safety feature helps to prevent free flow of feed
Audio alarm and LCD display alerts the user to changes with the feeding function
Large, intuitive dial for patients with limited dexterity
Large, highly legible LCD visual display screen
Provides a keypad lockout facility for increased security
Extensive audio and visual alarms
Feed history memory function provide consistency in feeding regime
Pump automatically primes the giving set at the touch of a button
Easy to handle with single handed loading
System self check upon pump start up
There are no routine calibrations, adjustments, or service required as pumps are self calibrating
User friendly operating controls and simple set up
Water resistant allows you to clean with ease. The pump can be easily wiped clean or rinsed under running water
24-battery life (at 125ml/hr) and recharges within 6 hours
Programmable "hold" timer for 1-90 minutes allowing you to connect a new feed container or correct an alarm condition
Power and battery operation
Use with FreeGo® pump giving sets
Power adapter and pole clamp supplied with the pump
Easy to carry with portable backpacks allowing the patient freedom to move whilst feeding