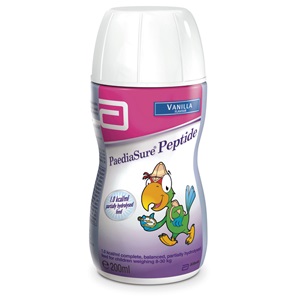 PaediaSure® peptide
PaediaSure® Peptide is a complete, balanced, partially hydrolysed feed for children weighing 8 - 30 kg.
GMS, DPS and LTI* approved
INDICATIONS
PaediaSure® Peptide is suitable for children with:
Impaired gastrointestinal tolerance
Maldigestion and Malabsorption
Gastro-oesophageal reflux disease
Motility disorders
Post gastrointestinal surgery
Short bowel syndrome
Inflammatory bowel disease
Cystic Fibrosis
Pancreatic disorders
Chronic diarrhea
Inability to tolerate polymeric (standard) feeds
NOTE
Not suitable for children under 1 year of age
Not suitable for children with galactosaemia
FOR ENTERAL USE ONLY
Presentation & Order Codes
PRODUCT and Flavour
LIST NUMBERS
PACK SIZE
CASE SIZE
PaediaSure® peptide Vanilla
S29930
200ml reclosable plastic bottle
30
PaediaSure® peptide RTH Vanilla
S29915
500ml ready-to-hang (RTH) plastic bottle
15
PREPARATION
PaediaSure® Peptide is ready to use
Do not dilute or add anything to the ready-to-hang bottle unless instructed, under the guidance of a healthcare professional.
TOP TIPS FOR PAEDIASURE® PEPTIDE
For oral use, PaediaSure® Peptide is usually best served chilled
PaediaSure® Peptide can be frozen into ice cubes or lollipops
FEATURES
STANDARD ENERGY
ENERGY DISTRIBUTION
12.0% protein
36.0% fat
52.0% carbohydrate
PROTEIN
CONTAINS 100% HYDROLYSED PROTEIN
70% hydrolysed whey
30% hydrolysed casein
CONTAINS MEDIUM CHAIN TRIGLYCERIDES (MCTS)
GLUTEN AND CLINICALLY LACTOSE FREE
OSMOLALITY
RENAL SOLUTE LOAD
WATER
COMPLETE IN VITAMINS AND MINERALS
778ml = 1 - 3 years**
1111ml = 4 - 6 years**
1667ml = 7 - 10 years**
CONVENIENT PACKAGING
200ml reclosable plastic bottle
500ml RTH bottle
Offers flexibility in feed delivery through the provision of sip, bolus or tube feeding
Packaging designed specifically with children in mind
Designed to be easily held with a resealable cap for easy pouring
Closed RTH system to reduce the risk of microbial contamination
Order Samples
Click
here
to place an order for samples.