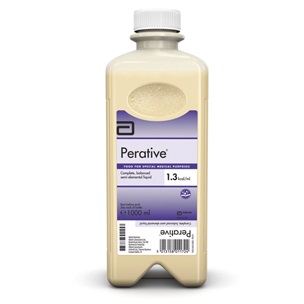 Perative®
Perative® is a complete, balanced, high protein semi-elemental feed, designed for people with poor feed tolerance or malabsorption.
GMS, DPS and LTI* approved
INDICATIONS
Perative®
is suitable for patients with:
Short bowel syndrome
Inflammatory bowel disease
Bowel fistula
Gastroenteritis
Insult or injury to gut
Malabsorption
Cystic fibrosis
Pancreatic insufficiency
Surgical resection
Total gastrectomy
NOTE
Not suitable for children under 1 year of age.
Unless recommended by a qualified healthcare professional, not intended for use in children.
Not suitable for people with galactosaemia
Not for parenteral (intravenous) use
Presentation & Order Codes
PRODUCT and Flavour
LIST NUMBERS
PACK SIZE
CASE SIZE
Perative® Unflavoured
P22115
500ml ready-to-hang plastic bottle
15
Perative® Unflavoured
P22108
1000ml ready-to-hang plastic bottle
8
PREPARATION
Perative® is ready to use
Do not dilute or add anything to the ready-to-hang bottle unless instructed, under the guidance of your healthcare professional
FEATURES
HIGH ENERGY
ENERGY DISTRIBUTION
20.5% protein
25.4% fat
54.1% carbohydrate
PROTEIN
6.7g protein per 100ml
Hydrolysed casein 72%
CONTAINS MEDIUM CHAIN TRIGLYCERIDES
CONTAINS ARGININE
CONTAINS GLUTAMINE
GLUTEN AND CLINICALLY LACTOSE FREE
OSMOLALITY
WATER
COMPLETE IN VITAMINS AND MINERALS
Nutritionally complete in 1230ml**
DELIVERY
Closed RTH system to reduce the risk of microbial contamination
Order Samples
Click
here
to place an order for samples.