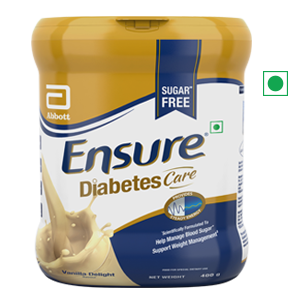 Ensure Diabetes Care
Scientifically formulated to help manage blood sugar, support weight management.
FEATURES
Ensure Diabetes care is a diabetes specific nutrition.
It is scientifically formulated with slow release energy system to help manage blood glucose levels and support weight management.
Helps build muscle mass and supports heart and digestive health.
High quality protein & contains sucralose (an artificial sweetener).
Lactose free, trans fat free and by nature it is free of gluten.
INGREDIENTS
Maltodextrin, Calcium Caseinate, Edible Vegetable Oils (High Oleic Sunflower Oil, Soy Oil), Fructose, Cocoa Powder, Minerals***, Fructooligosaccharide (FOS), Soy Polysaccharide, Flavoring, M- Inositol, Vitamins**, Antioxidants (Soy Lecithin, Mixed Tocopherols) Taurine, L-Carnitine and Sucralose.
PREPARATION
To prepare a glass of approximately 237ml, combine 6scoops (52g) of powder with 200ml of water.
NUTRITION
UNIT
Powder
(per 100 g)
Standard dilution
(per 100 ml)
Saturated Fatty Acids
g
0.73
0.16
Monounsaturated Fatty Acids
g
8.92
1.96
Polyunsaturated Fatty Acids
g
1.14
0.25
Vitamin A (from Palmitate)
mcg RE
255
56
Vitamin A (from Beta-Carotene)
mcg RE
109
24
Vitamin E
mg alpha TE
10
2.2
Thiamine (Vitamin B1)
mcg
582
128
Riboflavin (Vitamin B2)
mcg
655
144
Pantothenic Acid
mg
2.91
0.64