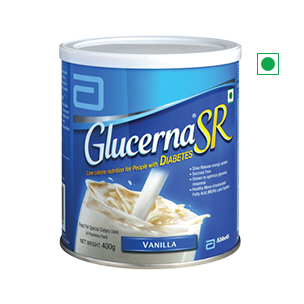 Glucerna SR
Low calorie nutrition for people with diabetes
FEATURES
Glucerna SR is a complete, balanced low calorie meal replacement and/or healthy snack alternative.
It is formulated with slow release energy system shown to optimize glycemic response, a healthy mono-unsaturated fatty acid (MUFA) lipid system and fiber.
Glucerna SR is sucrose free and provides high quality protein.
Ensure has balanced macronutrient ratio supporting optimum protein utilization.
By nature it is free of gluten & lactose free.
Can be consumed orally as well as by tube feeding.
INGREDIENTS
Maltodextrin, calcium caseinate, edible vegetable oils (high oleic sunflower oil, soy oil), fructose, Minerals*** (magnesium sulfate, potassium chloride, sodium phosphate, potassium citrate, sodium sulfate, sodium chloride, potassium hydroxide, calcium carbonate, ferrous sulfate, zinc sulfate, copper sulfate, manganese sulfate, chromium chloride, sodium molybdate, potassium iodide, sodium selenate), fructooligosaccharide (FOS), soy polysaccharide, flavoring, m- inositol, Vitamins** (choline chloride, sodium ascorbate, ascorbyl palmitate, dl-alpha tocopheryl acetate, niacinamide, pantothenic acid, pyridoxine hydrochloride, thiamin hydrochloride, riboflavin, beta carotene, vitamin A palmitate, folic acid, vitamin K1 (phylloquinone), d-biotin, vitamin D2 (ergocalciferol), vitamin B12 (cyanocobalamin)), antioxidants (soy lecithin, mixed tocopherols) taurine and L-carnitine.
PREPARATION
To prepare a 237ml feeding, put 200ml of water in a glass. Gradually add 6 level scoops (enclosed) or 52g of Glucerna SR powder, while stirring and mix well until dissolved. When mixed as directed, Glucerna SR provides approximately 0.96kcal/ml. A 400g can of powder yields approximately seven and a half 237ml servings.
NUTRITION
UNIT

Powder
(per 100 g)
Standard dilution
(per 100 ml)
Saturated Fatty Acids
g
0.73
0.16
Monounsaturated Fatty Acids
g
8.92
1.96
Polyunsaturated Fatty Acids
g
1.14
0.25
Vitamin A (from Palmitate)
mcg RE
255
56
Vitamin A (from Beta-Carotene)
mcg RE
109
24
Vitamin E
mg alpha TE
10
2.2
Thiamine (Vitamin B1)
mcg
582
128
Riboflavin (Vitamin B2)
mcg
655
144
Pantothenic acid
mg
2.91
0.64