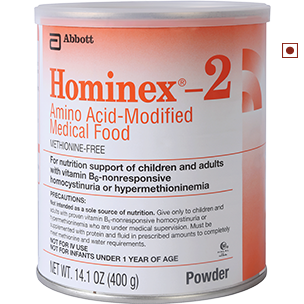 Hominex®–2
Amino Acid-Modified Infant Formula With Food
METHIONINE-FREE.
For nutrition support of infants and toddlers with vitamin B6-nonresponsive homocystinuria or hypermethioninemia.
FEATURES
Methionine-free to allow greater intake of intact protein.
L-cystine, in a soluble form, an essential amino acid that is often deficient in diets of infants and toddlers with homocystinuria.
L-carnitine (20 mg/100 g) and taurine (40 mg/100 g) to help supply amounts normally found in human milk and foods of animal origin.
Approximately 40% of energy as fat to help achieve acceptable formula osmolality.
6.6% of energy as linoleic acid.
Nutrient profile specifically designed for infants and toddlers.
When fed according to the Abbott Nutrition Support Protocols, provides adequate amounts of all nutrients.
Halal.
Lactose-free.
Gluten-free.
INGREDIENTS
Corn Syrup Solids, High Oleic Safflower Oil, Coconut Oil, Sodium Citrate, Soy Oil, L-Leucine, L-Lycine Acetate, L-Proline, L-Glutamine, L-Valine, Calcium Phosphate, L-Isoleucine, L-Arginine, Glycine, L-Alanine, L-Tyrosine; Less Than 2% Of: Magnesium Phosphate, L-Phenyl-Alanine, Potassium Chloride, L-Asparagine, L-Serine, L-Threonine, L-Cystine Dihydrochloride, Silicon Dioxide, L-Histidine, Datem, Potassium Citrate, Potassium Phosphate, L-Glutamic Acid, L-Tryptophan, L-Aspartic Acid, Calcium Carbonate, Ascorbic Acid, Taurine, Choline Chloride, M-Inositol, Ferrous Sulfate, Zinc Sulfate, L-Carnitine, Niacinamide, Dl-Alpha-Tocopheryl Acetate, Calcium Pantothenate, Ascorbyl Palmitate, Mixed Tocopherols, Cupric Sulfate, Manganese Sulfate, Thiamine Chloride Hydrochloride, Riboflavin, Vitamin A Palmitate, Pyridoxine Hydrochloride, Folic Acid, Chromium Chloride, Potassium Iodide, Beta-Carotene, Biotin, Sodium Selenate, Phylloquinone, Sodium Molybdate, Vitamin D3 And Cyanocobalamin.
NUTRITION
PROTEIN EQUIVALENT, g
30.0
VITAMIN A, IU (mcg RE)
2200 (660)
VITAMIN D, IU (mcg)
300(7.5)
VITAMIN E, IU (mg _-TE)
18 (12.1)
RIBOFLAVIN (Vit. B2), mg
1.8
NIACIN, mg (mg NE)
16 (21.7)
FOLIC ACID (FOLACIN), mcg
450
VITAMIN C(ASCORBIC ACID), mg
60
SODIUM, mg (mEq)
880 (38.3)
POTASSIUM, mg (mEq)
1370 (35.0)
CHLORIDE, mg (mEq)
1160 (32.7)