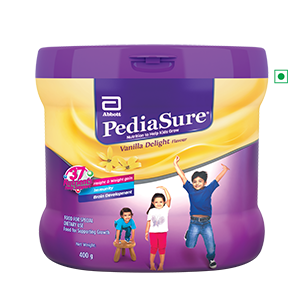 Pediasure®
Nutrition to Help Kids Grow
FEATURES
PediaSure® is a scientifically formulated nutrition, which contains 37 nutrients that provide complete, balanced nutrition for overall growth in children - as a part of overall healthy diet.
It has nutrients that support growth, immunity and brain development e.g. proteins, carbohydrates, taurine, choline, Omega 3 & 6, Probiotics, Prebiotics, Iron, Zinc, Selenium, Vitamin C and others.
It meets 100% of a child's nutritional needs to support growth when given in adequate amounts.
Is ideal for all children including those with increased energy and nutrient requirements.
Excellent source of high-quality protein which contains all essential amino acids which are required for growth and development.
Calcium : Phosphorus ratio of 1.6:1 which supports skeletal growth and catch up growth.
Contains carnitine, taurine conditionally essential nutrients for improved utilization of fat and to support normal.
Gluten free.
INGREDIENTS
Skim milk powder, sucrose, edible vegetable oil (soy oil, high oleic sunflower oil), maltodextrin, medium chain triglyceride (MCT) oil, fructo-oligosaccharides (FOS) (2%), flavoring, MINERALS$, VITAMINS#, m-inositol, taurine, Lactobacillus acidophilus (0.01%), L-carnitine and Bifidobacterium lactis (0.0035%).
PREPARATION
 

Quantity (ml)
Scoops of powder
Number of servings recommended
Water*
190
5
2 - 3
Whole cow's milk
150
2
2 - 3
1 Scoop equals 9.1g of Pediasure powder
*Claims applicable to the preparation in water.
Once mixed, PediaSure should be consumed immediately. Otherwise please cover, refrigerate and drink within 24 hours. When mixed as directed, PediaSure provides 0.94 kcal per ml. Also tastes delicious with milk.
NUTRITION
NUTRITIONAL FACTS -
APPROXIMATE COMPOSITION
Saturated fatty acids
g
3.22
Monounsaturated fatty acids
g
7.18
Polyunsaturated fatty acids
g
5.29
Alpha Linolenic acid
mg
380