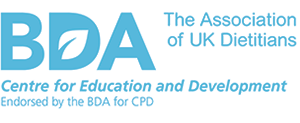 The dietetic management of children with cow's milk allergy is not always straightforward and parents may have waited a long time for a diagnosis and referral. They may arrive at your consultation expecting you to offer a magic solution for their child's condition. When that doesn't happen, it can be a source of stress and frustration. You may also be asking them to make changes to their child's diet which they may feel is risky and challenging to manage.
There are practical things you can do before, during and after the consultation to manage expectations and ensure that your relationship with the parents and carers is as positive and productive as possible.
Endorsed for Continuing Professional Development (CPD) by the British Dietetic Association*, Connected Consultations is an eLearning resource exploring the psychological drivers that may affect the patient or family before, during and after a consultation. The video series uncovers the psychological principles to help address challenges and suggests practical psychological strategies that can be integrated into pediatric dietitians' professional practice, to support positive interactions with parents and carers during consultations and ultimately better outcomes for their children.
In this series, psychologist Philip Graves guides dietitians through some of the psychological factors at play during a consultation:
"Parents of patients and dietitians have the same goal in mind – improving a child's health. As parents play a pivotal role in the treatment of their child's medical conditions, psychological techniques can be useful to create positive experiences, which will help them to feel at ease putting their trust in you as an expert."
"These videos will guide you through a number of strategies that you can use to develop your day-to-day practice, strengthening the connections you build with families and ultimately improving their child's treatment journey," comments Philip Graves.
Connected Consultations has been developed with the guidance of Chloe Millington, specialist paediatric dietitian at Great Ormond Street Hospital and Lucy Howson, parent adviser.
The videos provide a snapshot of one initial dietetic consultation to highlight psychological principles and possible interactions between the dietitian and the family of a child with cow's milk allergy. These principles can be applied to a wide range of clinical cases and dietetic interactions across inpatient, outpatient or community settings. The intention is to focus on the elements of the psychology and communication between the dietitian and the family. The videos do not provide a complete start to finish dialogue**.
To find out more about the psychological principles at play during your consultations, watch the Connected Consultations series: Making a Positive Start, Improving Communication and Motivating and Supporting Patients
Don't forget to test your knowledge after you watch the films – and make sure to add your email address when prompted so we can send you a certificate for your CPD file.
*Please note: BDA endorsement applies only to the educational content of the learning activity.
**Depending on caseload and local resources, there are likely to be variations in waiting times for initial and follow-up appointments. These variations may impact the amount of information that might need to be covered in an initial consultation.
Further Reading
Video One
Association:
Availability bias:
Video Two
Framing:
Active listening:
Video Three
Information Overload:
Feeling in Control:
ANUKANI180204f. Date of preparation: November 2018