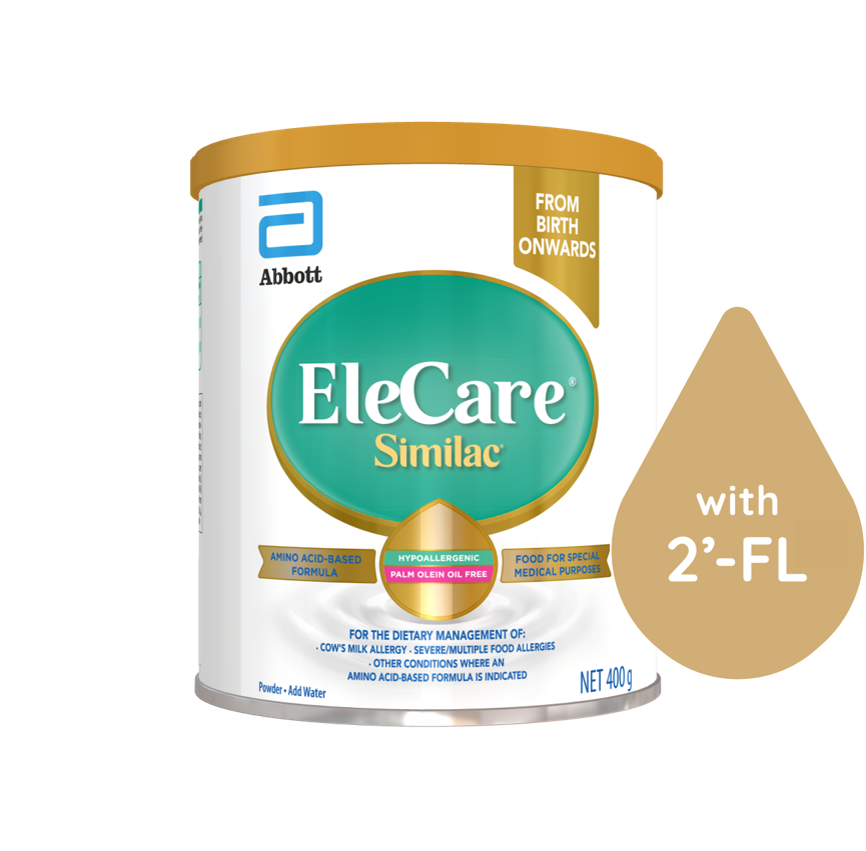 EleCare
EleCare , by Similac, is the first amino acid-based infant Food for Special Medical Purposes (iFSMP) in the UK containing synthesised 2'-FL*. EleCare has been specially formulated for the management of infants with moderate to severe cow's milk allergy (CMA), multiple food allergies, and/or those requiring an elemental diet.
Breast milk is the gold standard providing not only nutrition, but protection and support for the developing immune system,1-3 which is critical, particularly in the first year of life.4 However, not every infant with allergies can be breastfed and a number of families depend on hypoallergenic formula.
HMOs are a diverse group of bioactive, non-digestible carbohydrates and the third most abundant solid component of breast milk.5,6 Breast milk contains many distinct HMOs, which have a positive effect on gut microbiota and play an important role systemically in supporting the developing immune system.5-8
Following >18 years of extensive research into HMOs, Abbott has found that 2'-FL* is the most abundant HMO in mother's milk, and we are delighted to be the first and only manufacturer in the UK to add 2'-FL* to an amino acid-based formula.
With EleCare you can:

Help support the immune needs of infants with CMA in the gut and beyond**9-11
While providing the efficacy you expect and need†12-14
With a formula that is trusted by mums and healthcare professionals.15,16
EleCare is provided in a 400g tin.
Register for samples to be delivered directly to your patient by visiting Abbott Samples.
Breastfeeding is best for infants and is recommended for as long as possible during infancy. EleCare is an infant formula for special medical purposes and should be used under the supervision of a healthcare professional.
References:
1. Kainonen E, et al. Immunological programming by breast milk creates an anti-inflammatory cytokine milieu in breast-fed infants compared to formula-fed infants. Brit J Nutrition 2013;109(11):1962–1970. 2. Walker A. Breast milk as the gold standard for protective nutrients. J Pediatr 2010;156(Suppl 2):S3–S7. 3. Lessen R, Kavanagh K. Position of the academy of nutrition and dietetics: promoting and supporting breastfeeding. J Acad Nutr Diet 2015;115(3):444–449. 4. . Simon AK, et al. Proc Biol Sci 2015;282(1821): 20143085. 5. Triantis V, et al. Immunological Effects of Human Milk Oligosaccharides. Front Pediatr 2018;6:190. 6. Castanys-Munoz E, et al. Building a Beneficial Microbiome from Birth. Adv Nutr 2016;7(2):323–330. 7. Bode L. Human milk oligosaccharides: every baby needs a sugar mama. Glycobiology 2012;22(9):1147–1162. 8. Stepans MB, et al. Early consumption of human milk oligosaccharides is inversely related to subsequent risk of respiratory and enteric disease in infants. Breastfeed Med 2006;1(4):207–215. 9. . Marriage BJ, et al. J Pediatr Gastroenterol Nutr. 2015;61(6):649–658. 10. Reverri EJ, et al. Nutrients. 2018;10(10). pii: E1346. 11. Goehring KC, et al. J Nutr. 2016;146(12):2559–2566. 12. . Borschel MW, et al. Clin Pediatr (Phila). 2013;52(10):910–917. 13. Borschel MW, et al. BMC Pediatr. 2014;14:136. 14. . Borschel MW, et al. SAGE Open Med. 2014;2:2050312114551857. 15. Abbott. Abbott Insights Hub: Findings from the project 'EleCare & EleCare Jr No.1 Recommended'. 2018. 16. Abbott. EleCare Promotional Claims Parent Survey. 2019.



*2'-FL: The 2'-fucosyllactose used in this formula is biosynthesised and structurally identical to the human milk oligosaccharide (HMO) found in most mothers' breast milk.
**Data collected from healthy-term infants fed standard infant formula (Similac) with 2'-FL*, compared to control formula without 2'-FL*.
†Data collected from infants fed standard EleCare formula without 2'-FL*.
AVAILABILITY
Description
PIP Code
Link Code
Prosper Code
EleCare 6 x 400g tins (unflavoured) flavour
413-9390
ELE0426T
627406
PREPARATION
Thoroughly wash and rinse all equipment to be used in preparing the feed. Sterilise all utensils according to manufacturers' instructions or boil for 10 minutes.

Boil fresh tap water (not bottled water) and allow to cool for no more than 30 minutes. Do not use artificially softened water or repeatedly boiled water.
Wash your hands and clean the surface you are going to use.
Pour the correct amount of warm, previously boiled water into the sterilised feeding bottle.
Fill the scoop with EleCare powder, levelling with the back of a clean, dry, knife. Do not pack down in scoop.
Add one scoop of EleCare to each 30 ml of water. Only use the scoop provided. A level scoop contains 4.3g powder.
Place lid on bottle and shake gently until completely dissolved.
Fit a sterilised teat on bottle and test the temperature (drops of formula should feel lukewarm on the inside of your wrist). If necessary, add cap and cool by holding under cold running water.
Discard prepared formula left in the bottle or cup within one hour after feeding begins.
NUTRITION
Breastfeeding is best for infants and is recommended for as long as possible during infancy. EleCare is an infant formula for special medical purposes and should be used under the supervision of a healthcare professional.
Per 100 g powder
Per 100 ml
Protein (nitrogen)
g
14.0( 2.24 )
1.83( 0.29 )
| Product Name | Suitable for Kosher diets | Suitable for Halal diets | Suitable for vegetarians | Clinically lactose-free | Milk free | Gluten free |
| --- | --- | --- | --- | --- | --- | --- |
| EleCare | √ | √ | √ | √* | √ | √ |
* Lactose content <10mg/100kcal
INGREDIENTS
SUPPORTING DOCUMENTS
EleCare datasheet (PDF, 267 KB)
UK—2000136(V2) | May 2022