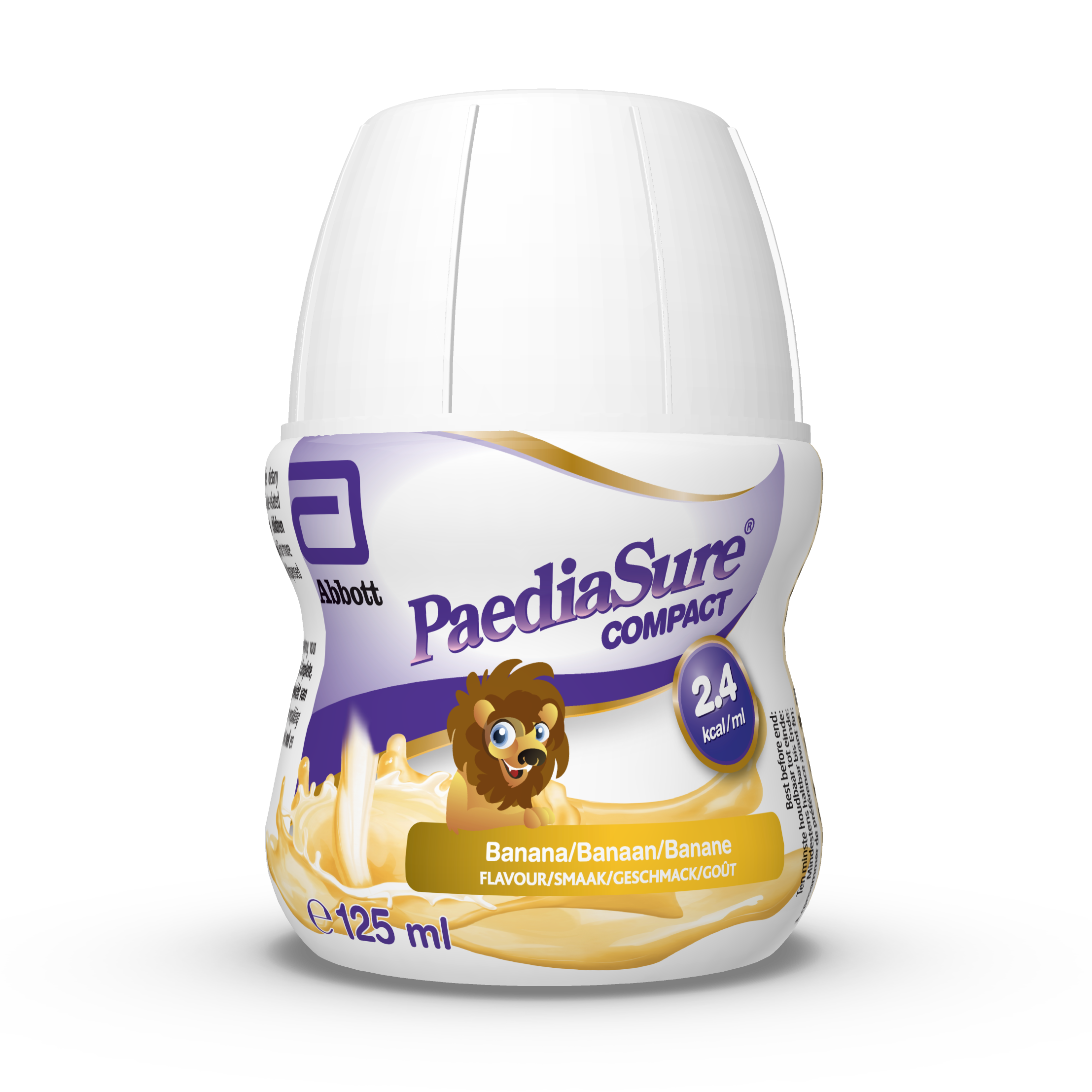 PaediaSure Compact
PaediaSure Compact is a 125 ml oral nutritional supplement suitable for the dietary management of children weighing 8-30 kg with, or at risk of developing, disease-related malnutrition. It has been specifically developed for children who may benefit from a smaller volume, as an alternative to ready-to-drink supplements which are 200 ml in volume. Each bottle provides 301 (2.4kcal/ml) and 8.4 g of protein. The milkshake style oral nutritional supplement is ready-to-drink and available in three flavours: banana, strawberry and vanilla. PaediaSure Compact is presented in a bottle with a straw for sipping and a peel-off seal for pouring, and is best served chilled.
Are you a parent whose child is taking PaediaSure Compact? Click here to access further information and resources developed especially for you.
AVAILABILITY
Description
PIP Code
Link Code
Prosper Code
PaediaSure Compact 24 x 125 ml bottle banana flavour
404-9557
PAE67P
322198
Description
PIP Code
Link Code
Prosper code
PaediaSure Compact 24 x 125 ml bottles strawberry flavour
404-9540
PAE68L
322248
Description
PIP Code
Link code
Proser code
PaediaSure Compact 24 x 125 ml bottle vanilla flavour
404-9532
PAE69H
322222
FEATURES
| | | | | | |
| --- | --- | --- | --- | --- | --- |
| Product Name | Suitable for Kosher diets | Suitable for Halal diets | Suitable for vegetarians | Clinically lactose-free | Gluten free |
| PaediaSure Compact | √ | √ | √ | x* | √ |
* In the absence of a legal definition or tolerance for making the claim "lactose free" in the UK for products other than infant formula, Abbott regard products containing less than 2000 mg lactose per litre (as fed) as being "clinically lactose free". PaediaSure Compact has 2053 mg of lactose per litre.
NUTRITION
PaediaSure Compact is a Food for Special Medical Purposes, for use under medical supervision.