Cheddar Chicken Quiche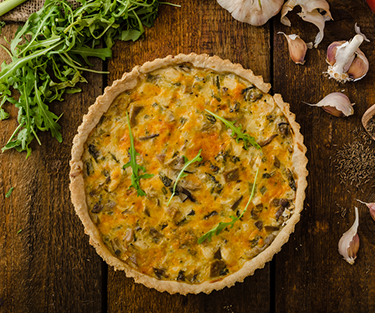 Ingredients:
3 large eggs
1 serving mixed Vanilla PediaSure Complete®
1 cup light, grated mature cheddar cheese
1 cup chopped chicken (white meat only)
1 cup chopped broccoli florets
2 tablespoons chopped onion
½ teaspoon dried basil leaves
2 x 30 cm – 45 cm pieces phyllo sheets
Vegetable oil (or cooking spray)
½ teaspoon chopped chives (optional)
Instructions on how to make it:
Preheat oven to 180˚C. Grease 22 cm pie plate.
In a medium bowl, combine eggs and PediaSure Complete® shake. Mix well.
Stir in cheese, chicken, broccoli, onion and basil.
Working quickly, lightly spray the top of 1 sheet of phyllo pastry with vegetable oil (or cooking spray). Place a second sheet on top of the first.
Pick up the stack of phyllo pastry and place it in the centre of the prepared pie plate.
Line the pie plate with the phyllo pastry.
Pinch the edges of the pastry to form a crust around the edge of the pie plate.
Spoon the egg mixture into pie plate.
Bake for 30 minutes or until a knife inserted into centre comes out clean.
Garnish with chives, if desired. Serve warm.