Mini Greek Chicken Kebabs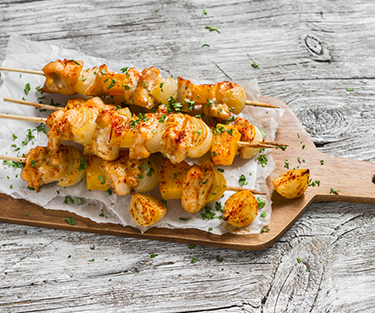 Serves: 8; Serving size: 2 kebabs
Ingredients:
Marinade
1 ½ Tbsp canola oil
½ tsp lemon zest
1 to 2 Tbsp fresh lemon juice
1 ½ tsp Worcestershire sauce
1 ½ tsp dried oregano leaves
½ tsp dried dill
1 medium garlic clove, minced
¹/8 tsp dried pepper flakes
¼ tsp salt
Kebabs
Canola oil cooking spray
4 chicken fillets, rinsed and patted dry, each cut in fourths crosswise
½ small green bell pepper, cut into 16 cubes
16 cherry tomatoes
16 bamboo skewers (15 cm each)
Instructions on how to make it:
Combine marinade ingredients in a quart-sized resealable plastic bag, seal tightly and toss until well blended. Remove 2 tablespoons mixture, place in a small bowl and set aside. Add chicken pieces to bag with the remaining marinade, seal tightly and toss back and forth to coat completely. Refrigerate for 1 hour.
Coat grill rack with cooking spray and preheat grill to medium-high heat.
Remove chicken from marinade and discard marinade. Thread chicken and vegetables through skewer in this order: pepper, chicken and tomato. Repeat with remaining skewers.
Place skewers on a grill rack and cook for 5 minutes or until chicken is no longer pink in centre and juices run clear, turning frequently and being careful not to overcook. Remove from grill, place on a serving platter and brush reserved 2 tablespoons marinade evenly over all. Serve warm.
Flavourful tip: Turn contents during the marinating time to ensure even marinating.
Nutritional info:
Calories: 60 Cal
Calories from Fat: 25 Cal
Total Fat: 3 g
Saturated Fat: 0.4 g
Trans Fat: 0 g
Cholesterol: 15 mg
Sodium: 80 mg
Total Carbohydrates: 2 g
Dietary Fibre: 1 g
Sugar: 1 g
Protein: 6 g
* Adapted from the American Diabetes Association from The Heart Smart Diabetes Kitchenserving