Complete & Balanced Nutrition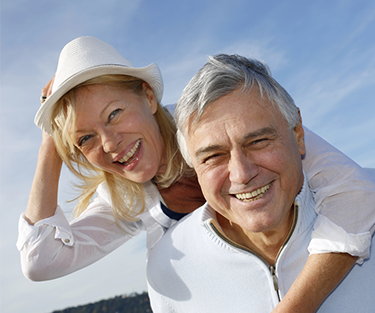 You are what you eat
The right lifestyle choices made early in life can affect the health status of one's later years. It is never too early or too late to take stock and ensure that you are getting the essential nutrients your body needs to remain healthy and active.
Regardless of our circumstances, maintaining a balanced diet is challenging so including a nutritional supplement can be useful to help you meet recommended intake levels.
What is the solution to complete and balanced nutrition?
For almost 40 years, our Ensure® nutritional drinks have been bringing complete and balanced nutrition to those looking to take charge of their health. Ensure® is made by simply mixing with water and can be enjoyed as a meal, with or in between meals.
Did you know Ensure®:
has a heart healthy fat blend that offers protection against heart disease.
A state of the art fibre blend, Beneo™ Synergy 1, to support gut health, immune function and promotes absorption of calcium and magnesium from the gut for enhanced bone mineralisation.
is ideal for people who are

busy and skip meals
want to gain weight
are struggling to eat balanced meals

is Halal and Kosher.
is lactose and gluten free.
is available in 3 delicious flavours: Vanilla, Chocolate and Strawberry* as well as in 400 g and 1 kg tins.
And, as voted number 1 by 15,000 South Africans is it any wonder that Ensure® is SA's favourite nutritional drink!
*400 g only
Click here to learn more.
Take the Challenge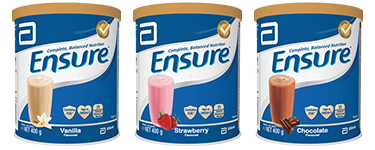 Want to feel better about your health and your nutrition? Try adding a new, healthy habit: Drink one glass of Ensure® nutritional drink every day!
Delicious tasting, cool and creamy Ensure® is great for an occasional breakfast or lunch, or a delicious between-meal snack especially when you are on the run as Ensure® is made by simply mixing with water.
Available in Vanilla, Chocolate and Strawberry flavours, each delicious Ensure® nutritional drink is an excellent source of 28 essential vitamins and minerals. The complete, balanced nutrition you get from Ensure® can help you stay healthy, active, and energetic. Drinking Ensure® daily is a habit that could help you take charge of your health.
So, if adding a daily Ensure® nutritional drink is a healthy habit, what about your overall nutrition? Every meal and snack choice you make throughout the day will impact your nutrition.
Drinking Ensure® daily is a positive starting point. And by focusing on one healthy habit, you may find you're more aware of other meal and snack decisions throughout your day.
The goal is for one healthy habit to influence others. This month, you add a glass of Ensure® nutritional drink each day. Next month, you substitute fresh fruit or veggies for the deep-fried side dishes in your meals. And the following month — who knows?
Let's Put It to the Test
Healthy habits — whatever they may be for you — begin with challenging yourself to make a plan and stick to it! Give us — give yourself — one month and see what happens. When you add one glass of Ensure® nutritional drink to your daily snack/meal routine — especially when it replaces a not-so-healthy choice — it's a step toward a healthier you. Keep it up for one month, and we believe you'll feel the difference!