Lasagna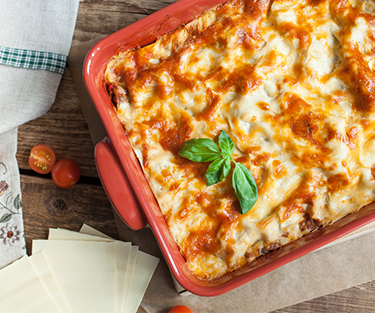 Serves: 12; Serving size: 7,5 cm x 7,5 cm
Ingredients:
500 g 90% lean ground beef
¾ cup chopped onion
1 garlic clove, minced
475 ml canned tomatoes, drained and coarsely chopped
350 ml tomato paste
2 tsp basil
1 tsp oregano
1 ½ tsp salt
240 ml cooked lasagna sheets
3 cups low-fat ricotta cheese
¼ cup chopped fresh parsley
2 eggs or ½ cup egg substitute
2 cups mozzarella cheese, part skim
⅓ cup Parmesan cheese
Instructions on how to make it:
In a large frying pan, brown the beef with the onion and garlic; drain well. Return the mixture to the frying pan and add the tomatoes with liquid, the tomato paste, basil, oregano and salt. Simmer, uncovered, for 30 minutes, stirring occasionally.
Preheat the oven to 190°C. Cook the lasagna sheets according to package directions.
In a small bowl, mix the ricotta cheese, parsley and eggs. Spray a 23 cm x 33 cm baking pan with non-stick olive oil-flavoured pan spray.
Layer in half the sheets and half the cheese mixture, then the meat sauce, and then the mozzarella. Repeat layers with the remaining ingredients. Sprinkle the top with Parmesan cheese. Bake for 35 to 45 minutes. Let stand 10 minutes before cutting into 12 rectangles (each about 8 cm x 8 cm).
Nutritional info:
Calories: 303 Cal
Calories from Fat: 96 Cal
Total Fat: 11 g
Saturated Fat: 5 g
Cholesterol: 100 mg
* Adapted from the American Diabetes Association from The New Family Cookbook for People with Diabetes.