Milk Tart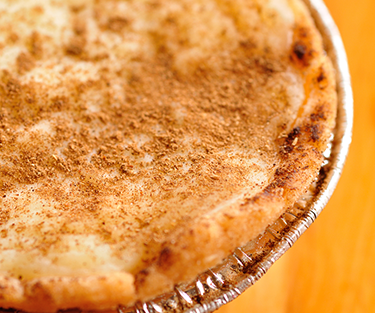 Crust:
Ingredients:
125 ml butter or margarine
250 ml sugar
1 egg
500 ml flour
10 ml baking powder
1 pinch of salt
Instructions on how to make it:
Cream together butter or margarine and sugar.
Add the egg and beat until mixture is smooth.
In a separate bowl, mix together flour, baking powder, and salt.
Stir flour mixture into sugar mixture just until ingredients are thoroughly combined.
Press mixture into bottom and sides of a pyrex dish.
Bake in preheated oven of 180°C for 10 to 15 minutes, until golden brown.
Use as base for milk tart.
Filling:
Ingredients:
500 ml Ensure® Vanilla
125 ml flour
2.5 ml baking powder
Pinch of salt
3 eggs
Cinnamon
45 ml butter, melted
80 ml sugar
Instructions on how to make it:
Cream egg yolks, sugar, salt and melted butter together.
Add dry ingredients and Ensure®. Mix well.
Beat egg whites until fluffy and fold into mixture.
Pour into a crusted dish and bake at 180°C for 30-40 minutes.
Sprinkle with cinnamon.