Mushroom Soup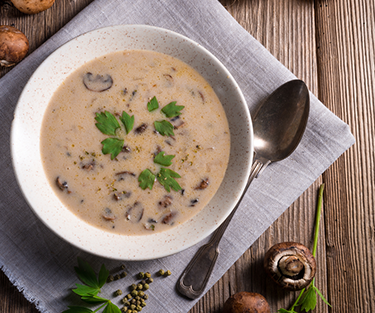 Ingredients
6 scoops (52 g) Glucerna® SR powder
1 can (100 g) mushrooms
100 ml warm water
100 ml low fat or skim milk
Salt & Pepper
Instructions on how to make it:
Drain liquid from canned mushrooms and rinse under water.
Cut into smaller pieces if using whole mushrooms. For variety, you may use more than one type of mushroom.
Steam or microwave mushrooms until heated through.
Put mushrooms, Glucerna® SR, milk and water into blender.
Blend ingredients together until well-incorporated and smooth.
Add salt and pepper to taste.
Heat to serving temperature. DO NOT BOIL.
Serve in a soup bowl.
Note: Additional mushrooms can be steamed and added into soup before serving.