Just Peachy Bowls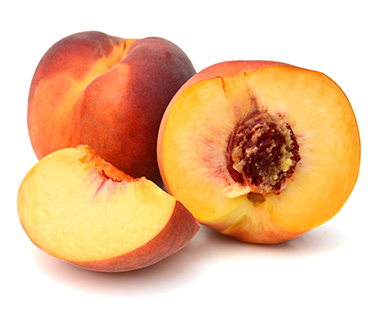 Serves: 4; Serving size: 1 bowl
Ingredients:
2 large fully ripened peaches
1 cup fat-free peach yoghurt
2 Tbsp sliced almonds, pan-roasted
4 sprigs fresh mint
Instructions on how to make it:
Remove peach stems, slice peaches in half and remove seeds.
Place each peach half onto a small plate, cut side up. Top each half with ¼ cup yoghurt.
Sprinkle with almonds and top with mint sprigs.
Nutritional info:
Calories: 90 Cal
Calories from Fat: 16 Cal
Total Fat: 6 g
Saturated Fat: 0 g
Cholesterol: 0 mg
Sodium: 30 mg
Total Carbohydrates: 16 g
Dietary Fibre: 2 g
Sugar: 13 g
Protein: 4 g
* Adapted from the American Diabetes Association from The All Natural Diabetes Cookbook