Roasted Sweet Potato Mash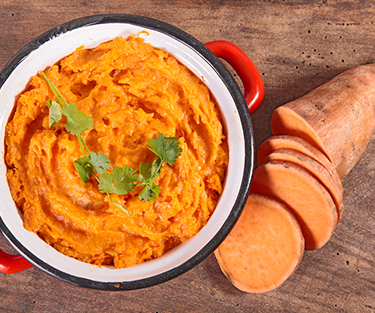 Ingredients:
680 g sweet potatoes, peeled and cut into 2.5 cm pieces
1 large baking apple, peeled, cored and cut into 8 pieces
2 teaspoons fresh ginger, grated
¼ teaspoon ground cinnamon
A pinch of ground cardamom
½ teaspoon salt
1 teaspoon vegetable oil
125 ml mixed Vanilla Ensure® shake
Instructions on how to make it:
Preheat oven to 200˚C.
In a medium cast-iron frying pan or oven-safe frying pan, combine sweet potatoes, apple bits, ginger, cinnamon, cardamom, salt and oil. Toss together.
Bake for 20 minutes, stirring occasionally. Bake for an additional 15-20 minutes or until potatoes are soft and slightly caramelised. (If potatoes are sticking to the pan, carefully add a few tablespoons of water).
Transfer mixture to a mixing bowl, add the Ensure® shake and mash with potato masher. Serve hot.