Afternoon Delight Tuna Salad Sandwich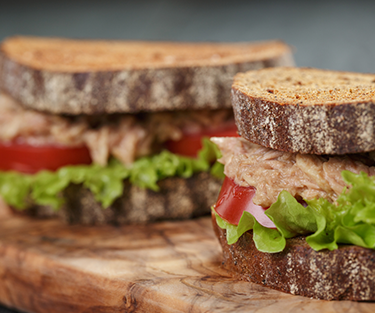 Serves 4; Serving size: 1 sandwich
Ingredients:
1 can water-packed solid tuna, drained and separated into chunks
1 ¼ cups thinly sliced celery (slice on diagonal)
8 cherry tomatoes, thinly sliced
¼ cup spring onion
3 Tbsp chopped fresh parsley
3 Tbsp chopped fresh coriander
3 Tbsp lemon juice
2 Tbsp low-fat mayonnaise
1 Tbsp spicy Dijon mustard
8 slices whole wheat bread
Instructions on how to make it:
In a medium bowl, combine the tuna, celery, tomatoes, onion, parsley, coriander, lemon juice, mayonnaise and mustard.
Spread the mixture on top of 4 slices of bread. Top with remaining bread slices and cut in half diagonally.
Nutritional info:
Calories: 260 Cal
Calories from Fat: 73 Cal
Total Fat: 8 g
Saturated Fat: 1 g
Cholesterol: 5 mg
Sodium: 520 mg
Total Carbohydrates: 30 g
Dietary Fibre: 5 g
Sugar: 8 g
Protein: 16 g
* Adapted from the American Diabetes Association from The All Natural Diabetes Cookbook