Chicken and Potato Salad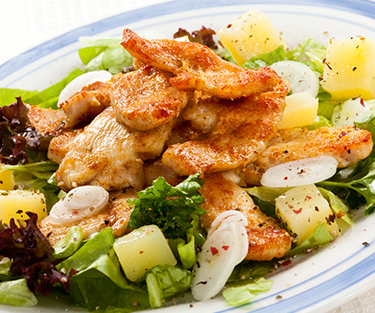 Prep time: 20 minutes
Makes: 2 serves
Ingredients:
250g chicken breast fillet
1 medium potato
½ cup corn kernels
¼ cup vinaigrette or favourite salad dressing
2 scoops Vanilla PediaSure Complete®
½ teaspoon curry powder
Lettuce leaves and cherry tomatoes for serving
Instructions on how to make it:
Pan-fry chicken in a little oil until cooked. Dice, place into a large bowl and set aside to cool.
Steam or microwave potato until cooked. Dice and add to chicken with corn kernels.
Place vinaigrette into a small bowl. Mix in PediaSure Complete®, then curry powder.
Stir dressing into chicken mixture and mix well. To serve, spoon onto lettuce leaves and garnish with halved cherry tomatoes.
Hint:
This recipe can be made with chopped barbecued chicken.
If you prefer, use 2 teaspoons bottled pesto in place of the curry powder.