Creamy Chicken and Vegetable Curry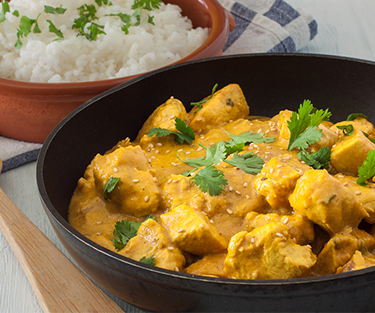 Prep time: 10 minutes
Cooking time: 20 minutes
Makes: 3 serves
Ingredients:
1 tablespoon oil
250g chicken thigh fillets, cubed
1 teaspoon curry powder
1 carrot, diced
½ cup peas or sliced green beans
½ cup corn kernels
½ cup water
½ cup light cream
2 scoops Vanilla PediaSure Complete®
3 teaspoons cornflour
Steamed rice for serving
Instructions on how to make it:
Heat oil in a medium saucepan and brown chicken.
Add curry powder, carrot, beans, corn and water. Cover and simmer gently until chicken is cooked.
Place cream into a small bowl; mix in PediaSure Complete® and cornflour. Add 1-2 tablespoons hot liquid from the chicken, mix until smooth. Remove chicken from heat, stir in milk mixture and continue stirring until well mixed and slightly thickened.
Serve with steamed rice.
Hint:
For texture, sprinkle with toasted flaked almonds or serve with poppadums.

Vary the vegetables to include any vegetables your child likes; for example diced pumpkin or sweet potato in place of the carrot.