Crumpets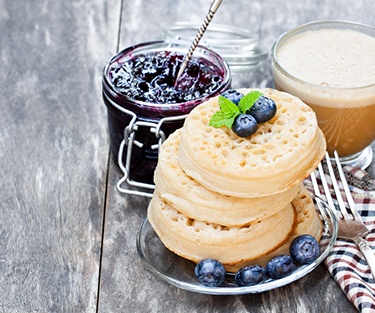 Ingredients:
180 g self-raising flour
1 teaspoon baking powder
2 teaspoons vegetable oil
200 ml Vanilla PediaSure Complete®
30 g castor sugar
1 large egg
Instructions on how to make it:
Pour the flour, baking powder and castor sugar in a bowl and give it a stir.
Make a well in the middle of the mixture and pour in the egg, oil and half of the PediaSure Complete®.
Beat the mixture into a smooth batter, then add the rest of the PediaSure Complete® drink.
Heat some butter or oil in a frying pan until hot and drop a tablespoon of batter into the middle of the pan.
When bubbles start rising to the surface of the batter, carefully turn it over and cook on the other side until browned.
Serve with butter, jam, honey, golden syrup or maple syrup.
Makes approximately 18 crumpets