Panna Cotta Dessert with Berry Compote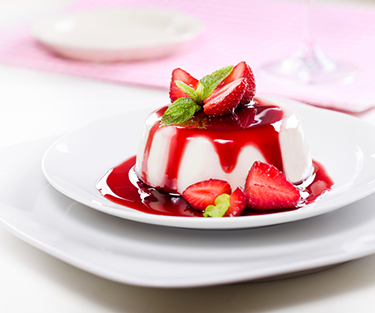 Prep time: 10 minutes
Cooking time: 5 minutes + setting time
Makes: 3 serves
Ingredients:
½ cup milk
½ cup cream
1 tablespoon castor sugar
1 teaspoon gelatine
1 tablespoon water
3 scoops Vanilla PediaSure Complete®
Berry Compote:
1 cup (150 g) frozen mixed berries
2 teaspoons castor sugar
2 teaspoons water
1 teaspoon arrowroot or cornflour
Instructions on how to make it:
Lightly spray three ½-cup moulds with cooking spray.
Place milk, cream and castor sugar into a small saucepan. Warm over a medium heat until sugar is dissolved.
Sprinkle gelatine over water in a small dish and allow to become absorbed into the water. Stir gelatine into milk mixture. Stir in PediaSure Complete® and mix until smooth.
Pour mixture into prepared moulds. Chill for 2 hours, or overnight, until set. To serve, turn out and spoon over Berry Compote.
Berry Compote:
Place berries and sugar in a small saucepan and stir over a medium heat until sugar is dissolved. Blend water and arrowroot; add to berries and stir over the heat until just thickened and glossy. Remove from heat and cool before serving.