Tuna Salad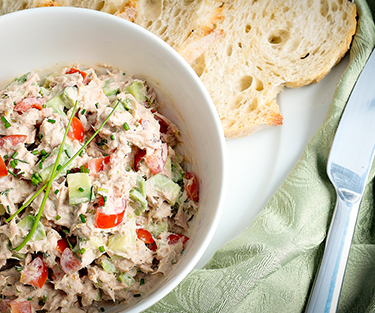 Prep time: 10 minutes
Makes: 2 serves
Ingredients:
¼ cup whole egg mayonnaise
1 tablespoon milk
2 scoops Vanilla PediaSure Complete®
1 x 210g can tuna in brine, drained
1 gherkin, finely chopped
1 tablespoon chopped chives
Lettuce cups, tomato wedges and cucumber slices to serve
Instructions on how to make it:
Place mayonnaise into a small bowl.
Blend in milk and PediaSure Complete®, Mix in tuna, gherkins and chives and mix to break up any large lumps of tuna.
Serve in lettuce cups, with tomato wedges and cucumber slices.
Hint:
This salad makes a great filling for sandwiches and rolls.
Vary the flavour by using different fresh herbs such as parsley, mint or basil in place of the chives.
Salmon can be used in place of the tuna.