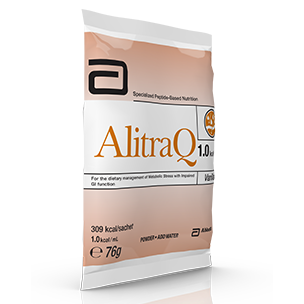 Alitraq®
Well-absorbed elemental diet specially formulated for metabolically stressed patients with impaired gastro-intestinal function.¹
Alitraq® Powder
300 Cal/76 g
AVAILABILITY
S589.076
Alitraq® Vanilla 300 Cal/76 g
FEATURES
Helps maintain nutritional status and provides additional glutamine to nourish the gastro-intestinal tract and to help restore glutamine depleted during catabolic states¹.
Specialized elemental nutrition with glutamine 1.42 g/100 ml¹.
Contains 0.26g of arginine per 100 ml¹.
Lactose and gluten free.
Available in vanilla flavour.
Caution: For use under medical supervision only.
NUTRITION
Thiamin (Vitamin B1)
mg
0.20
Riboflavin (Vitamin B2)
mg
0.23
INGREDIENTS
Vitamin A, Vitamin D, Vitamin E, Vitamin K, Thiamin (Vitamin B1) Riboflavin (Vitamin B2), Vitamin B6, Vitamin B12, Biotin, Pantothenic Acid, Vitamin K, Sodium, Calcium, Phosphorous, Magnesium, Iron, Zinc, Manganese, Copper, Iodine, Selenium, Chloride, Chromium, Molybdenum, Taurine, L-carnitine, Glutamine