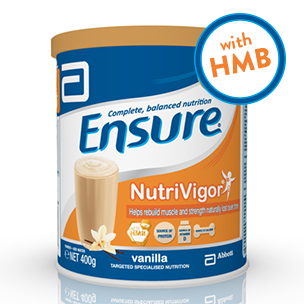 Ensure® NutriVigor ™
NutriVigor® is a unique system of ingredients including Acti-HMB and protein to help rebuild muscle and strength naturally lost over time and vitamin D to help build and maintain strong muscles.
AVAILABILITY
S564.140
Ensure® NutriVigor ™ Vanilla 400 g
FEATURES
Complete and balanced1.
Nutritional supplement to help rebuild muscle and strength1.
Meal replacement or as a supplement1.
Provides CaHMB* - clinically shown to help support and rebuild lean body mass, improve strength and physical performance naturally lost over time2.
Lactose free1.
Gluten free1.
Kosher and Halal certified.
*CaHMB = Calcium beta-hydroxy beta-methylbutyrate. CaHMB is a source of HMB, a bioactive metabolite of the essential amino acid leucine.
Precautions
Caution:
Not for parenteral (intravenous) use.
Not intended for use in children unless recommended by a physician or qualified Healthcare Professional.
PREPARATION
Prepare it right for a glass full of benefits and a great taste.
For a standard serving of 230 ml, combine 6 scoops of powder with 190 ml of water. Shake or stir thoroughly to dissolve the powder.
When mixed as above Ensure NutriVigor® provides approximately 1.0 kcal/ml.
One can containing 400 g yields approximately 8 (230 ml) servings.
Recommended 2 servings per day.
NUTRITION
POWDER (per 100 g)
STANDARD DILUTION* (Per 100 ml)
% NRV# (Per 230 ml serving)
of which saturated
g
1.4
0.33
Moisture (water)
g
84.2
190
Niacin equivalent
mg
8.2
1.9
27.5
Pantothenic acid
mg
4.2
0.99
46
Vitamin A (palmitate)
mcg RE
450
106
Vitamin A (ß-carotene)
mcg RE
20
4.7
Vitamin B12
mcg
1.5
0.35
33.8
# Individuals 4 years and older
INGREDIENTS
Water, maltodextrin, hydrolyzed corn starch, sucrose, milk caseinates (sodium caseinate, calcium caseinate),VEGETABLE OIL (high oleic sunflower oil, soy oil, canola oil), MINERALS (potassium citrate, sodium citrate, potassium phosphate dibasic, potassium chloride, magnesium chloride, calcium carbonate, sodium chloride, zinc sulphate, ferrous sulphate, manganese sulphate, cupric sulphate, sodium molybdate, potassium iodide, chromium chloride, sodium selenate), soyprotein isolate, Ca-HMB (Calcium ß-hydroxy-ß-methylbutyrate monohydrate), inulin, oligofructose, flavouring, soy lecithin (emulsifier), choline chloride, VITAMINS (ascorbic acid, dl-alpha tocopheryl acetate, niacinamide, calcium pantothenate, pyridoxine hydrochloride, thiamine hydrochloride, riboflavin, Vitamin A palmitate, folic acid, ß-carotene, biotin, phylloquinone, Vitamin D3, cyanocobalamin), ascorbyl palmitate, mixed tocopherols.