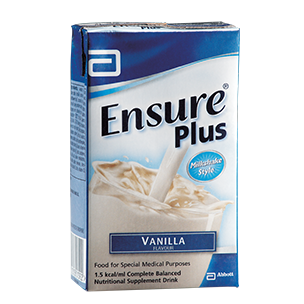 Ensure® Plus
A ready to drink nutritional drink providing concentrated calories and protein to help patients gain or maintain a healthy weight.
Ensure® Plus
1.5 kcal/ml
200ml Tetra Pak (SIP)
AVAILABILITY
M424.120
Ensure® Plus Vanilla 1.5 kcal/ml 200ml
FEATURES
Complete and balanced nutrition.
Lactose and gluten free.
Available in vanilla flavour.
Caution: Not intended for use in children unless recommended by a physician or qualified Healthcare Professional.
NUTRITION
of which Beta-Carotene
mcg RE
29.2
58.4
Thiamin (Vitamin B1)
mg
0.20
0.40
Riboflavin (Vitamin B2)
mg
0.27
0.54
Folacin (Folic Acid)
mcg
33.0
66.0
Pantothenic Acid
mg
1.10
2.20
INGREDIENTS
Vitamin A, Vitamin D, Vitamin E, Vitamin K, Thiamin (Vitamin B1) Riboflavin (Vitamin B2), Vitamin B6, Vitamin B12, Biotin, Pantothenic Acid, Vitamin K, Sodium, Calcium, Phosphorous, Magnesium, Iron, Zinc, Manganese, Copper, Iodine, Selenium, Chloride, Chromium, Molybdenum