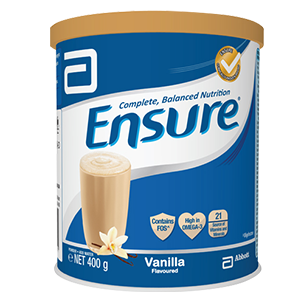 Ensure® Powder
For patients who wish to supplement their diet, increase their caloric and protein intake, or maintain good nutrition.¹
Available in 400g and 850g powder.
AVAILABILITY
S616.140
Ensure® Powder Vanilla 400 g
S616.101
Ensure® Powder Vanilla 850 g
S617.140
Ensure® Powder Chocolate 400 g
S617.101
Ensure® Powder Chocolate 850 g
S618.140
Ensure® Powder Strawberry 400 g
FEATURES
May be substituted for meals, or portions of meals, to gain or maintain weight.
A state of the art fibre blend, Beneo™ Synergy 1, to support gut health, immune function and promotes absorption of calcium and magnesium from the gut for enhanced bone mineralisation.
Meets AHA dietary guidelines to reduce the risk of heart disease.
Contains essential omega-6 (linoleic) and omega-3 (linolenic) fatty acids in the optimum ratio of 8:1 to support heart health.
Lactose and gluten free.
Kosher ² and Halal.
Available in 3 flavours: vanilla, chocolate and strawberry*.
*Caution: Not intended for use in children unless recommended by a physician or qualified Healthcare Professional.
NUTRITION
Powder Per 100 g
*Standard Dilution Per 100 ml
Vitamin A (Acetate)
mcg RE (IU)
457 (1525)
105 (351)
Vitamin A (Beta-Carotene)
mcg RE (IU)
20 (203)
4.7 (47)
Vitamin D3
mcg (IU)
4.8 (193)
1.1 (44)
Vitamin E
mcg α TE
8.0 (12.0)
1.9 (2.8)
Pantothenic Acid
mg
4.27
0.98
Powder Per 100 g
*Standard Dilution Per 100 ml
Vitamin A (Acetate)
mcg RE (IU)
457 (1525)
105 (351)
Vitamin A (Beta-Carotene)
mcg RE (IU)
20 (203)
4.7 (47)
Vitamin D3
mcg (IU)
4.8 (193)
1.1 (44)
Vitamin E
mcg α TE
8.0 (12.0)
1.9 (2.8)
Pantothenic Acid
mg
4.27
0.98
Powder Per 100 g
*Standard Dilution Per 100 ml
Vitamin A (Acetate)
mcg RE (IU)
457 (1525)
105 (351)
Vitamin A (Beta-Carotene)
mcg RE (IU)
20 (203)
4.7 (47)
Vitamin D3
mcg (IU)
4.8 (193)
1.1 (44)
Vitamin E
mcg α TE
8.0 (12.0)
1.9 (2.8)
Pantothenic Acid
mg
4.27
0.98
Powder Per 100 g
*Standard Dilution Per 100 ml
Vitamin A (Acetate)
mcg RE (IU)
457 (1525)
105 (351)
Vitamin A (Beta-Carotene)
mcg RE (IU)
20 (203)
4.7 (47)
Vitamin D3
mcg (IU)
4.8 (193)
1.1 (44)
Vitamin E
mcg α TE
8.0 (12.0)
1.9 (2.8)
Pantothenic Acid
mg
4.27
0.98
Powder Per 100 g
*Standard Dilution Per 100 ml
Vitamin A (Acetate)
mcg RE (IU)
457 (1525)
105 (351)
Vitamin A (Beta-Carotene)
mcg RE (IU)
20 (203)
4.7 (47)
Vitamin D3
mcg (IU)
4.8 (193)
1.1 (44)
Vitamin E
mcg α TE
8.0 (12.0)
1.9 (2.8)
Pantothenic Acid
mg
4.27
0.98
INGREDIENTS
Vitamin A, Vitamin D, Vitamin E, Vitamin K, Thiamin (Vitamin B1) Riboflavin (Vitamin B2), Vitamin B6, Vitamin B12, Biotin, Pantothenic Acid, Vitamin K, Sodium, Calcium, Phosphorous, Magnesium, Iron, Zinc, Manganese, Copper, Iodine, Selenium, Chloride, Chromium, Molybdenum