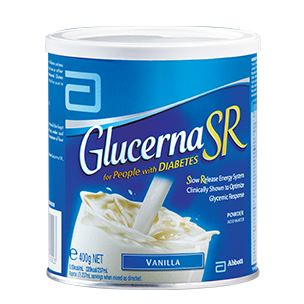 Glucerna® SR
Low calorie meal replacement and / or snack1 nutritional drinks. Designed specifically for Diabetes patients looking to manage their blood glucose levels as part of an overall Diabetes management plan1,2.
Glucerna®
400 g Powder and 230 ml Ready To Drink Liquid
AVAILABILITY
S434.140
Glucerna® SR Powder 400 g
M979.123A
Glucerna® SR Ready To Drink 230 ml Tetra Pak
FEATURES
Balanced nutrition¹.
Clinically proven to optimise glycaemic response².
Includes low-glycaemic carbohydrates¹.
Supports GIT health.
Lactose and gluten free¹.
Available in vanilla flavour.
Caution: For use under medical supervision only.
NUTRITION
Powder Per 100 ml
*Standard dilution Per 100 ml
Vitamin A (Palmitate)
IU
2096
461
Vitamin A (Beta-Carotene)
IU
1269
279
Thiamin (Vitamin B1)
mcg
731
161
Riboflavin (Vitamin B2)
mcg
827
182
Pantothenic Acid
mg
4.81
1.06
Powder Per 100 ml
*Standard dilution Per 100 ml
Vitamin A (Palmitate)
IU
2096
461
Vitamin A (Beta-Carotene)
IU
1269
279
Thiamin (Vitamin B1)
mcg
731
161
Riboflavin (Vitamin B2)
mcg
827
182
Pantothenic Acid
mg
4.81
1.06
INGREDIENTS
Vitamin A, Vitamin D, Vitamin E, Vitamin K, Thiamin (Vitamin B1) Riboflavin (Vitamin B2), Vitamin B6, Vitamin B12, Biotin, Pantothenic Acid, Vitamin K, Sodium, Calcium, Phosphorous, Magnesium, Iron, Zinc, Manganese, Copper, Iodine, Selenium, Chloride, Chromium, Molybdenum