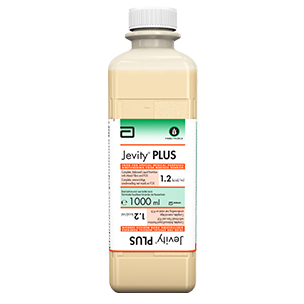 Jevity® Plus
Nutritionally complete, fibre enriched tube feed for patients who need a moderate increase in calories and protein.
Jevity® Plus
Ready To Hang 1.2 kcal/ml
1000ml
AVAILABILITY
M635.154
Jevity® Plus 1.0 kcal/ml 1000 ml
FEATURES
A calorically dense, mixed fibre formula with pre-biotic FOS for long or short term feeding.
Lactose and gluten free.
Complete and balanced nutrition.
Caution: For use under medical supervision only.
NUTRITION
Fructooligosaccharide (FOS)
g
1.00
Vitamin A (Beta-Carotene)
IU
330
INGREDIENTS
Vitamin A, Vitamin D, Vitamin E, Vitamin K, Thiamin (Vitamin B1) Riboflavin (Vitamin B2), Vitamin B6, Vitamin B12, Biotin, Pantothenic Acid, Vitamin K, Sodium, Calcium, Phosphorous, Magnesium, Iron, Zinc, Manganese, Copper, Iodine, Selenium, Chloride, Chromium, Molybdenum