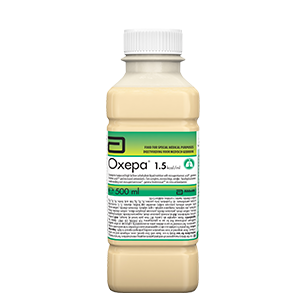 Oxepa®
Oxepa® is a sole source of liquid enteral feed that is high in fat and low in carbohydrates and has been scientifically formulated to modulate inflammation in sepsis, acute lung injury (ALI) and acute respiratory distress syndrome (ARDS).1-4
For the dietary management of ventilated patients requiring enteral nutrition.1
A sole source, high in fat and low carbohydrate liquid with eicosapentaenoic acid (EPA), gamma linolenic acid (GLA) and increased antioxidants.1
Calorically dense for fluid-restricted patients.
Contains a blend of oils (EPA and GLA) and has increased amounts of antioxidants (Vitamin C, E and beta-carotene to modulate inflammation.)
May be used as sole source nutrition and to meet 100% of patient's nutritional needs.
Oxepa® 500 ml RTH 1.5 kcal/ml
AVAILABILITY
M648-150
Oxepa® - 500 ml RTH
FEATURES
Specifically formulated for the partial or exclusive feeding of a patient by means of oral intake or to be administered through a naso-gastric tube or other enteral route that uses the digestive system.
Suitable for ventilated patients who because of therapeutic needs,

have a limited or impaired capacity to ingest, digest, absorb or metabolise ordinary foods or certain nutrients contained therein or,
who has a specially medically determined nutritional requirement that cannot be met through the modification of the normal diet alone.

Designed to be tube fed and is available in a ready-to- hang presentation.
Suitable as a sole source of nutrition and contains all essential macro and micro- nutrients.
Intended to be used under medical supervision.
Lactose and gluten free.
Caution: For use under medical supervision only.
PREPARATION
Ready to use, shake well.
For use under medical supervision only.
This product is suitable as a sole source of nutrition or a supplement, to be used under medical supervision.

For tube feeding, once opened, cover, refrigerate and use within 24 hours.
Store unopened at room temperature avoiding prolonged exposure to light.

For ENTERAL use only.
NUTRITION
Units
Per 100 ml
Per 500 ml
Sodium
mg (mmol)
131 (I5.70)
Vitamin B1 (Thiamin)
mg
0.32
Vitamin B2 (Riboflavin)
mg
0.36
Calcium
mg (mmol)
106 (2.64)
Chloride
mg (mmol)
169 (4.77)
Magnesium
mg (mmol)
32 (1.32)
Phosphorus
mg (mmol)
100 (3.23)
Potassium
mg (mmol)
196 (5.01)
Osmolarity 384 mOsm/l
*EPA : Eicosapentaenoic acid
**GLA: Gamma Linolenic Acid
INGREDIENTS
Water, vegetable oils (canola, MCT from palm kernel oil, borage), milk proteins, sucrose, maltodextrin, fish oil, minerals ( potassium citrate, magnesium chloride, calcium phosphate tribasic, sodium citrate, potassium chloride, potassium phosphate dibasic, sodium chloride, ferrous sulphate, zinc sulphate, manganese sulphate, cupric sulphate, chromium chloride, sodium molybdate, sodium selenate, potassium iodide), emulsifier: soy lecithin, vitamins (C, E, niacinamide, calcium pantothenate, vitamin A palmitate, beta carotene, B1 , B2 , B6 , folic acid, biotin, K1 , D3 , B12 ), choline chloride, taurine, l-carnitine,stabiliser: E418