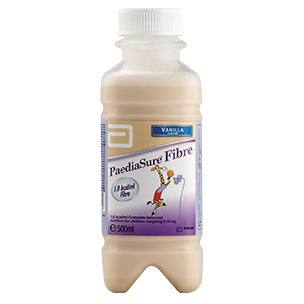 PediaSure® Fibre RTH
Complete and balanced nutrition for children who may benefit from additional fibre to support their digestive health.
PaediaSure® Fibre
Ready To Hang 1.0 kcal/ml
500ml
AVAILABILITY
M610.150
PediaSure® Fibre RTH Vanilla 1.0 kcal/ml 500ml
FEATURES
For children weighing 8 - 30 kg1.
Complete and balanced1.
Fibre (soy polysaccharide)1.
Lactose* free1.
Available in vanilla flavour.
Caution: Contra-indications: For use under medical supervision only.
*Not suitable for children with galactosaemia.
NUTRITION
of which saturates
g
1.37
6.85
Vitamin E (alpha TE)
mg
1.50
7.50
Thiamin (Vitamin B1)
mg
0.15
0.75
Riboflavin (Vitamin B2)
mg
0.20
1.00
Folacin (Folic Acid)
mcg
15.0
75.0
Pantothenic Acid
mg
0.30
1.50
INGREDIENTS
Vitamin A, Vitamin D, Vitamin E, Vitamin K, Thiamin (Vitamin B1) Riboflavin (Vitamin B2), Vitamin B6, Vitamin B12, Biotin, Pantothenic Acid, Vitamin K, Sodium, Calcium, Phosphorous, Magnesium, Iron, Zinc, Manganese, Copper, Iodine, Selenium, Chloride, Chromium, Molybdenum, Fluoride, Taurine, L-carnitine, Choline, Inositol