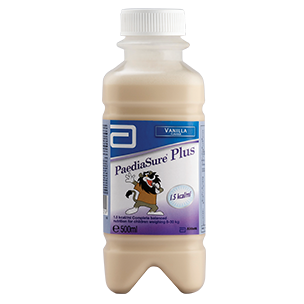 PaediaSure® Plus RTH
Complete and balanced nutrition for children with higher caloric requirements who need more calories in a lower volume.
PaediaSure® Plus
Ready To Hang 1.5 kcal/ml
500ml
AVAILABILITY
M610.150
PaediaSure® Plus RTH Vanilla 1.5 Cal/ml 500ml
FEATURES
For children 1 – 10 years¹.
Complete and balanced¹.
Available in vanilla flavor.
Contra-indications: For use under medical supervision only.
* Not suitable for children with galactosaemia.
NUTRITION
of which saturates
g
2.08
10.4
Thiamin (Vitamin B1)
mg
0.23
1.15
Riboflavin (Vitamin B2)
mg
0.30
1.50
Folacin (Folic Acid)
mcg
23.0
115
Pantothenic Acid
mg
0.45
2.25
INGREDIENTS
Vitamin A, Vitamin D, Vitamin E, Vitamin K, Thiamin (Vitamin B1) Riboflavin (Vitamin B2), Vitamin B6, Vitamin B12, Biotin, Pantothenic Acid, Vitamin K, Sodium, Calcium, Phosphorous, Magnesium, Iron, Zinc, Manganese, Copper, Iodine, Selenium, Chloride, Chromium, Molybdenum, Fluoride, Taurine, L-carnitine, Choline, Inositol