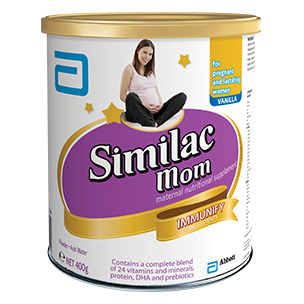 Similac® Mom
A low-fat nutritional supplement for pregnant and breastfeeding mothers¹
Available in 400g powder.
AVAILABILITY
S348.140
Similac® Mom Vanilla 400 g
FEATURES
24 Essential vitamins and minerals1.
DHA, choline, folic acid, iron and zinc support baby's brain and visual development1.
Immunify ingredients support baby's developing immune system.
Vitamin D and FOS clinically proven to improve calcium absorption.
More frequent meals containing protein may alleviate nausea.
Less than 1 g of fat, only 126 calories per serving.
NUTRITION
Powder (Per 100 g)
*Standard Dilution Per 177 ml serving
*Standard Dilution Per 100 ml
Carbohydrate
g
53.6
19.6
11.0
Vitamin A
IU (mcg RE)
1110 (333)
405 (122)
229 (69)
Vitamin D3
IU (mcg)
548 (13.7)
200 (5.0)
113 (2.8)
Vitamin E
IU (mg TE)
38.9 (26.0)
14.2 (9.5)
8.0 (5.4)
Niacin
mg (mg NE)
7.8 (14.3)
2.8 (5.2)
1.6 (2.9)
Pantothenic Acid
mg
8.2
3.0
1.7
INGREDIENTS
Vitamin A, Vitamin D, Vitamin E, Vitamin K, Thiamin (Vitamin B1) Riboflavin (Vitamin B2), Vitamin B6, Vitamin B12, Biotin, Pantothenic Acid, Vitamin K, Sodium, Calcium, Phosphorous, Magnesium, Iron, Zinc, Manganese, Copper, Iodine, Selenium, Chloride, Chromium