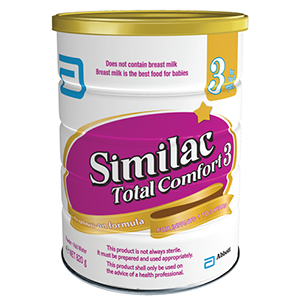 Similac® Total Comfort® 3
Low lactose, partially hydrolysed whey protein formula for infants aged 1-3 years
Available in 820g powder.
Breast milk is best for infants and is recommended for as long as possible during infancy.
Information for Healthcare Professionals only.
AVAILABILITY
S397.183
Similac® Total Comfort® 3 820 g
FEATURES
Similac® Total Comfort® is also:
Kosher and Halaal endorsed
Caution: Not suitable for children with Galactosaemia or documented cow's milk allergy.
NUTRITION
Powder (per 100 g)
*Standard Dilution (per 100 ml)
%RDA (per 100 ml)
Docosahexaenoic Acid
mg
26
4
ND
Dietary Fibre (GOS)
g
1.13
0.17
ND
Vitamin A
IU (mcg RE)
1733 (520)
263 (79)
13.2
Vitamin D3
IU (mcg)
303 (7.58)
46 (1.15)
11.5
Vitamin E
IU (mg TE)
15.8 (10.6)
2.4 (1.6)
39.7
Thiamin (Vitmain B1)
mg
0.66
0.10
20.0
Riboflavin (Vitmain B2)
mg
0.66
0.10
16.7
Vitamin B12
mcg
2.89
0.44
29.3
Niacin
mg (mg NE)
8.42
1.28
16.0
Pantothenic Acid
mg
2.63
0.40
13.3
Total Nucleotide equivalents
mg
17.1
2.6
ND
INGREDIENTS
Maltodextrin, VEGETABLE OILS (high oleic sunflower oil, soy oil, coconut oil), partially hydrolyzed whey protein, sucrose, MINERALS (tricalcium phosphate, calcium chloride, potassium phosphate, potassium hydroxide, magnesium sulphate, sodium citrate, sodium chloride, ferrous suphate, potassium chloride, zinc sulphate, copper suphate, manganese sulphate, potassium iodide), galactooligosaccharides (GOS), flavouring, VITAMINS (choline chloride, ascorbic acid, ascorbyl palmitate, niacinamide, dl-alpha tocopheryl acetate, mixed tocopherols, calcium d-pantothenate, pyridoxine hydrochloride, Vitamin A palmitate, thiamine hydrochloride, riboflavin, folic acid, Vitamin K1 (phylloquinone), d-biotin, Vitamin D3 (cholecalciferol), cyanocobalamin), soy lecithin (emulsifier/stabiliser), arachidonic acid (AA) from M.alpina oil, docosahexaenoic acid (DHA) from C.cohnii oil, taurine, NUCLEOTIDES (cytidine 5'-monophosphate, disodium uridine 5'-monophosphate, adenosine 5'-monophosphate, disodium guanosine 5'-monosphosphate), CAROTENOIDS (lutein, beta carotene). May contain: sodium ascorbate. * Lactose free